80th Birthday Party Ideas
80th birthday party ideas will make your celebration exciting, memorable and thrilling.  To watch your special someone have the time of their life will be a rewarding experience for all!  Be sure to include family, friends and associates that have been part of this milestone journey.  Bring joy to the occasion and make your Honoree proud and thankful for eighty years of achievements with a creative and fun party.
Proper planning paves the way for a successful event designed for fun.  After all, this is a milestone you will want to share.

Are you ready to party?  
80th birthday party ideas start here...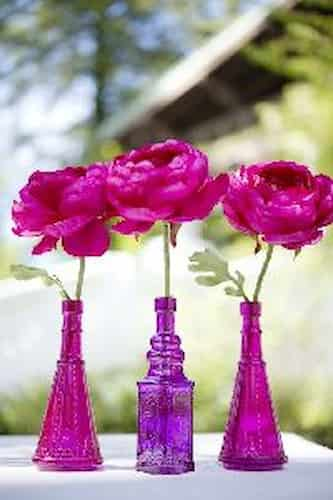 80th Birthday Decorations!

Get inspired here with all the elements of decor.
People love to attend parties where the decor is out of the ordinary.  This immediately puts guests in a festive mood.  Just pick something the Honoree loves, whether it is a hobby, favorite food, or even a favorite color and go crazy.  Drench the decor in these elements and express 80th birthday party ideas in every manner possible-think about the centerpieces, tablescapes, balloons, banners, confetti, garland.
80th Birthday Party Favors!

Say thank you with one of these age appropriate party favors.
Of course they're worth it!  When celebrating one of life's grandest moments, there are numerous ways to show your appreciation.  The more inspirational you are, the more special your guests will feel.  Make your last impression a good one with creative, thoughtful party favors.
80th Birthday Party Suggestions!

May we suggest one of these party ideas.
When you are looking for 80th birthday party suggestions, sometimes you are not exactly sure what you are looking for, but you know it when you see it.  You also know that you want to bring as much attention as possible to the Honoree in a way that is enjoyable for all.  Being cognizant of the past and attentive to the present, the 80th birthday experience becomes very personal.  If you are looking for 80th birthday party ideas that meet that criteria, we've got you covered.  It's certainly worth taking a look see.  
80th Birthday Cake Ideas!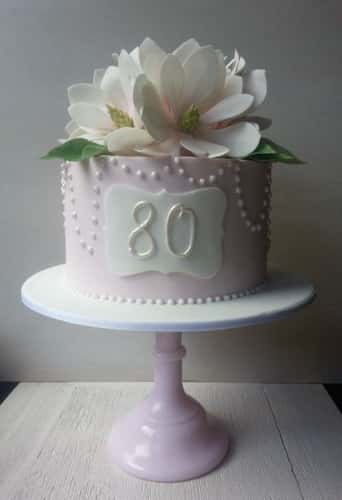 Look at these ideas that really take the cake.
One of the most important parts of any birthday party is the cake.  Today's cakes are grander than in years past.  With fondant, buttercream, and gum past, the results are impressive works of art.  Celebrate by creating that unforgettable cake that reflects your Guest of Honor's style.  Fun & whimsical?  Elegant & classy?  You decide with this one-stop resource for birthday cakes.
Cake by Cakes Decor 
80th Birthday Invitation!

Make your invite right with one of these stylish solutions.
Celebrate 80th birthday party ideas with what you remember most.  There is no other birthday when you have more of a desire to reflect than in selecting an 80th birthday invitation.  Get the picture? Salute the story of a lifetime with a collage of photos. While you have their attention, include the when, where, and what. We love this picture perfect invitation by Invitation Consultants.  Staging a glimpse of the fun to come will ensure that your guests will mark their calendar. Mail invitations 2-3 weeks in advance.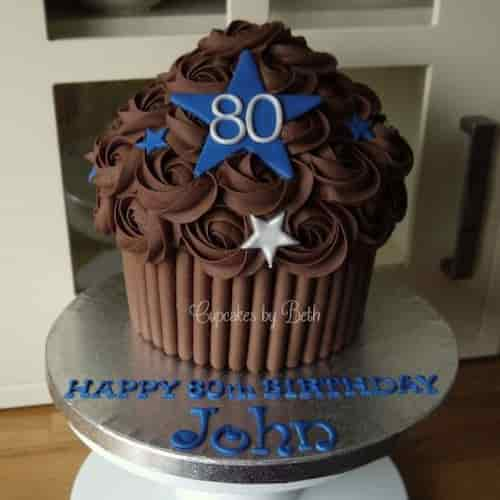 Sweet.  Cupcakes guaranteed to leave guests smiling.
Include cupcakes in your 80th birthday party ideas.  A great cake alternative.  These versatile little desserts come in a wide variety of flavors and designs.  Casual or formal?  These small cakes are right at home on paper plates or a more formal cupcake tower.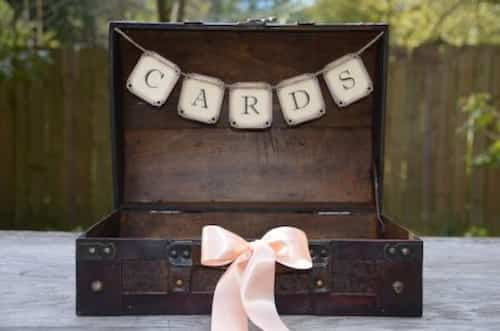 Find unique cards here as well as clever presentation ideas.
An 80th birthday card is one means of presenting your feelings.  So when selecting a birthday card, put extra thought into getting the card that says exactly how you feel.  Center one of your party stations around birthday wishes. Encourage guests to bring birthday cards to the party and make the drop off spot as unique as possible.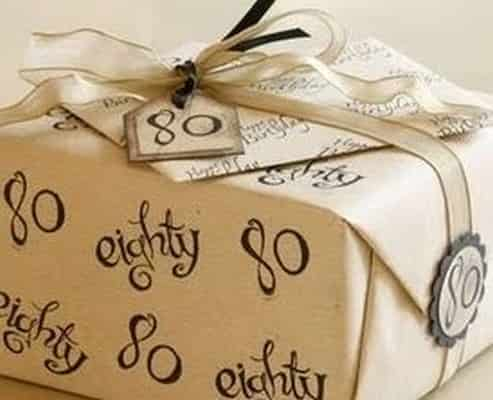 Let our gift guide help you find a gift that is user friendly.
Sometimes the older people get the harder it is to find a gift.  So, what does an 80 year old really want?  A smart gift shopper considers the interests of the recipient and buys accordingly.  Your gift should send the message that this gift was purchased especially for you.  
Jokes clean enough to tell your Grandmother.
The best advice we could give anyone is to not take life too seriously.  Sometimes you just have to laugh at yourself.  There are some things that matter and some that are just a bump in the road.  Just remember that growing old is not for sissies, so don't sweat the small stuff.  
Other Party Animals Also Liked: