Homemade Wedding Favor Soaps
Homemade wedding favor soaps are a perfect match for the diy bride.  It takes more than a dream to make this important gesture a reality.  The love that goes into the planning is the most important thing. So what can a couple do to enhance a gift of soap?  Wedding favors tend to become noteworthy when they spark a memory, reflect a passion, or are presented in an original way.  Make sure your soap wedding favors make a statement about who you are as a couple and reflect your own sense of style.  
New trends in weddings have introduced new ways of presenting wedding favors.  The wedding reception itself creates an atmosphere, dictates the degree of formality, suggests celebration, and makes guests feel welcome and special.  Spotlight your soap favors with imagination and stylish details.
Homemade wedding favor soaps and ways to keep the presentation interesting. 
Soapcase.
A successful presentation of your homemade soaps is in all the details.  Here, small details such as the lavender, initial, and unique container, come together to create a big statement.  Guests will be in awe over the special attention and creativity you put into your favor display.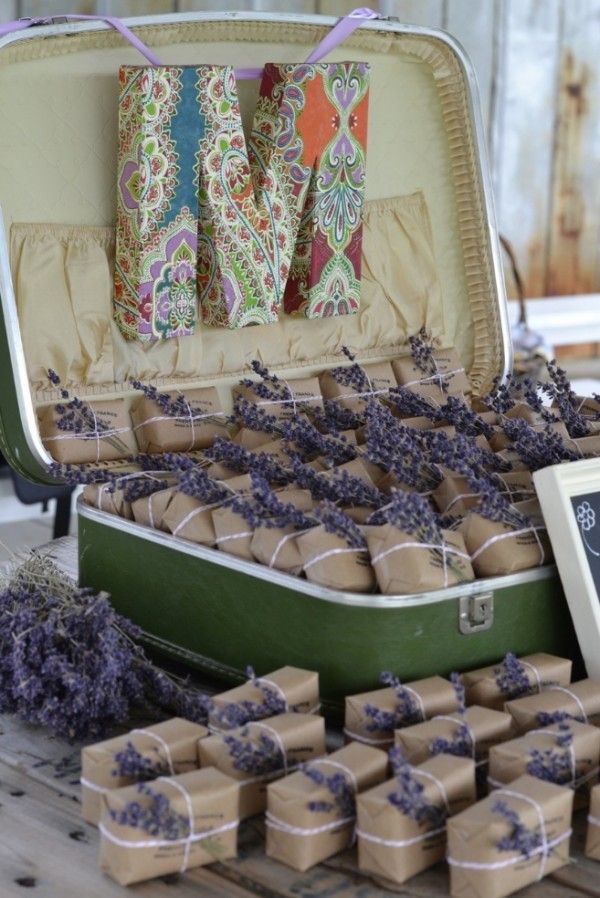 Photo courtesy of A Little Stone House
---
It's always nice to share.
An informed guest is a happy guest.  The most important part about this chalkboard sign is that the ingredients are properly conveyed in a beautiful way.  We love how all the elements here complement the homemade wedding favor soaps so eloquently.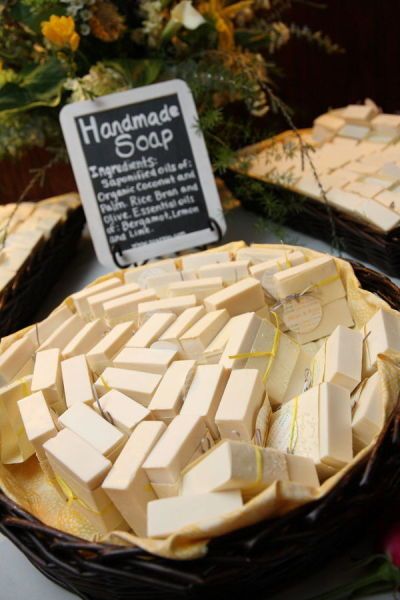 Photo courtesy of Jamison Wexler Photography
---
Please take a favour.
Homemade favors work well with a casual rustic themed reception.  The weathered look of this simple wooden box lends a bit of nature to this presentation.  The tree slice chalkboard provides an opportunity to send a message while continuing the theme.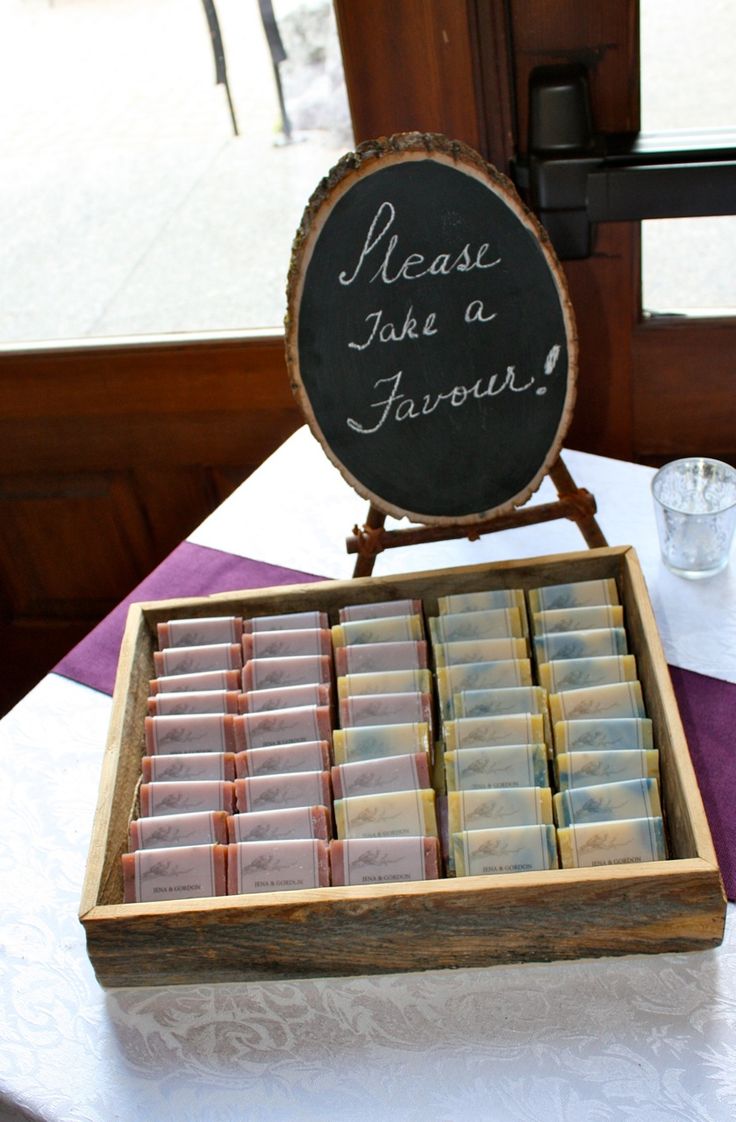 ---
Vintage appeal.
Vintage lace makes these homemade wedding favor soaps appear quite nostalgic, but upon closer look it comes apparent that all the elements are quite simple.  The surprise is that it is all served on a silver tray.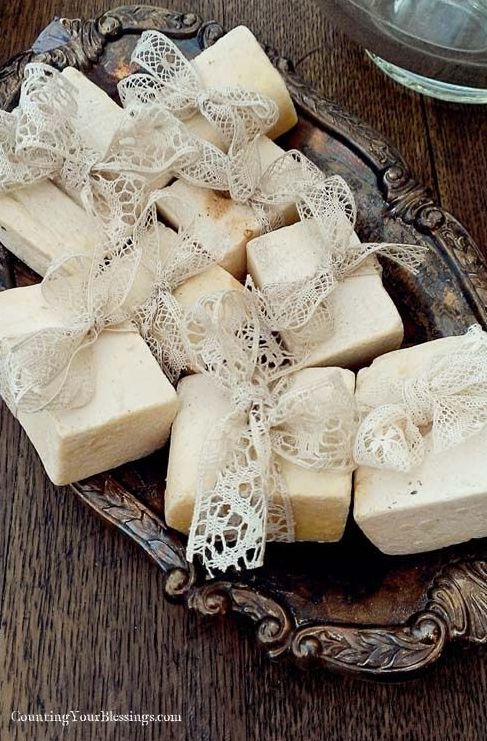 Photo courtesy of Counting Your Blessings
---
For the sheer fun of it.
Give guests a glimpse of your homemade soap favors by using sheer bags in your wedding colors.     Attaching simple handwritten tags further enhances the presentation without adding extra expense. We love the antique appeal that the suitcase provides.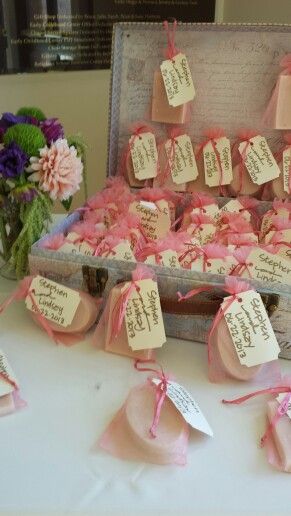 ---
Understated elegance.
Making your soap favor part of the table setting is always a special treat.  A neutral palette is especially useful in giving this favor presentation an understated, elegant feel.  Even the simplest brown box is deserving embellished with lace and a delicate flower.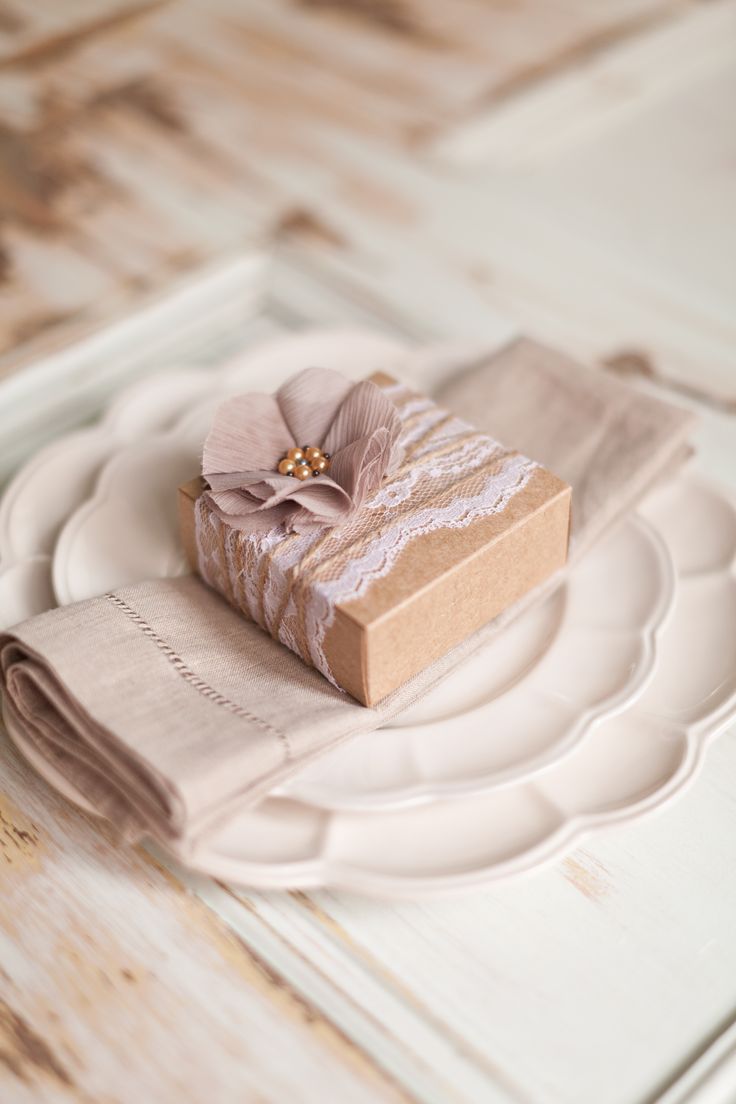 ---
Vintage charm.
Use your wedding favors to create a charming, welcoming feeling for your guests.  Placing soap favors in a collection of boxes adds vintage flair.  The country charm continues with fresh flowers and a thank you sign anchored in a small log.  There is no competition here, all the elements are working in harmony.
Photo courtesy of Hitched in the Hood

---
Map it out.
Using maps as wrapping paper for your homemade soap wedding favors is quite unique.  A perfect idea for the couple who loves to travel.  Incorporating elements that reflect the personalities of the couple, their interests, or some aspect of their life together is always noticed.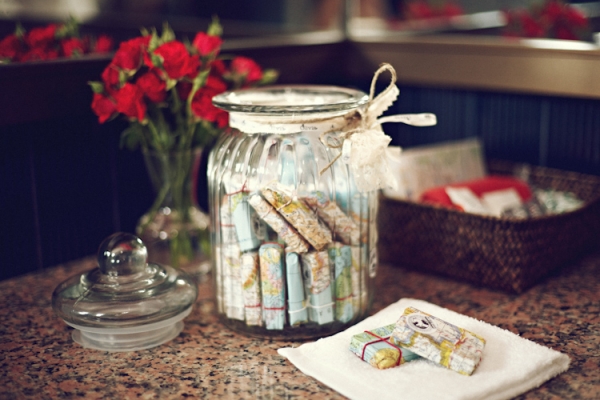 Photo courtesy of 3 Deseos Y Medio
---
Rustic elegance.
Luxury is often presented with casual hints of informality.  The marrying of these lace bags with the casual jute tie is the perfect expression of rustic elegance.
---
Clearly soap.
Soap favors create a chance to showcase your artistic ability.  Exuberant bright colors are clearly an asset to this favor display.  The decorative tags with a personal thank you also contribute to this fresh, lighthearted style.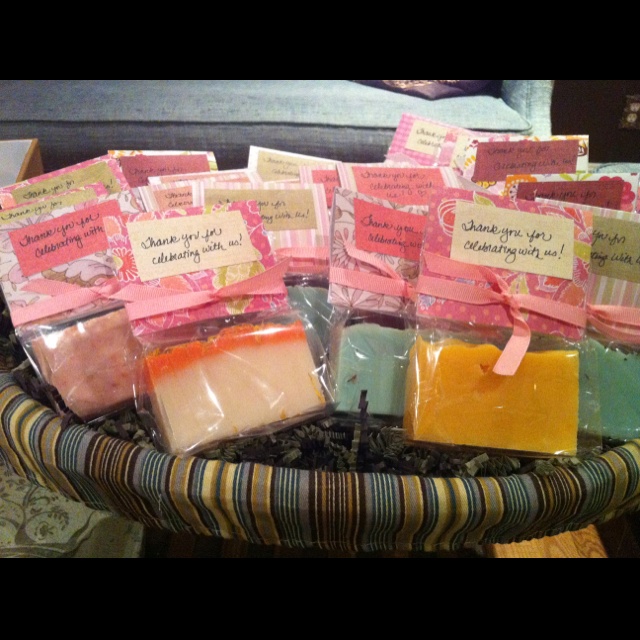 ---
Herbal touch.
Herbs can be a timeless, elegant way to bring meaning to your homemade favors.  Lavender symbolizes love, luck, and devotion-a perfect choice for a wedding.  Here, the lavender sprigs enhance the individual soap favors, while the loosely tied lavender bouquet tops it all off.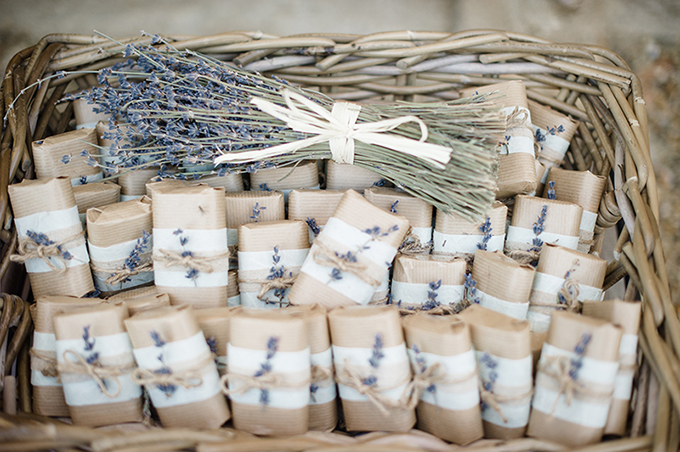 Photo courtesy of Glamour And Grace
---
Homemade wedding favor soaps are easy to diy and here's how. . .
| | |
| --- | --- |
| Purchase materials which include glycerin soaps, preferable clear or white, colored dyes and soap molds.  It is recommended to cut the soap into small chunks, so it will melt evenly in the microwave or double boiler. | |
Once the soap has melted, you can add colored dyes that complement your wedding decor.  Do not use food coloring because it will stain skin when the soap is used.  If you prefer, you can also add scents to the melted soap at this time.
| | |
| --- | --- |
| Next, it is time to pour the melted soap into the molds.  Take a tiny bit of olive oil and rub it inside each mold so that the soaps do not stick when removing them.  Choose a mold that fits with your wedding theme or embodies the personalities of the bridal couple.  From a dog and cat favor for pet lovers to a seashell wedding favor for beach lovers, your homemade wedding favor soaps should tell a story about you.   | |
Once you have poured the molds, allow them to sit and dry.  Approximately one hour later, they should easily pop out of the molds giving you an adorable soap.  Lastly, transform your soaps into a celebration with tulle, boxes, organza bags and pretty ribbon.  Always include a gift tag expressing your appreciation and thankfulness.  For example, if you are making heart shaped soaps, add a note saying, "Thank you from the bottom of our hearts!"
---
Other Party Animals Also Liked: