1st Birthday Party Ideas
The 1st birthday party ideas found here will provide all the inspiration needed to commemorate a whole year of firsts.  It is like a ribbon cutting ceremony for all the great birthdays to come.  At this age, the little ones do not need a lot of activities, so make the atmosphere as simple and calm as possible.  The parents will certainly appreciate that idea.  Keep in mind user friendliness and safety, too.  A good Hostess meets all the needs of the guests no matter how small the guest happens to be. 
Planning is the key to giving one-year-olds the food they enjoy, the people they love, and the pleasure of making a mess.  The theme makes it easy to provide a focal point for everything from the invitations to the favors.  
1st birthday party ideas to make it easy to
celebrate the big one.

Take baby steps.
Think through what you would like to do, so that you are not scrambling at the last minute. Just follow your bliss and focus on your strengths.
True blue.
While baby blue is still the most popular color for boys, the trend is to blend colors and textures to create a unique look that still feels unified.
Make one stop here for first boy birthday ideas.
Think small.
Most 1st birthday parties are more intimate, so stick to close friends and family. 
Take pictures.
Your little boy won't remember the party, but you will have your memories.
ONE Big Idea

Ever feel like your party ideas are on display?  First birthday is in the air and in the sweets.  With this acrylic pastry stand, guests will want to stop and taste everything.  Perfect for displaying baby's smash cake and any small cakes.
Think pink.
The official color for girls is pink, so why not start your little princess off right.  Enhance decorations with pink lace and frills from the greeting to the take home party favors.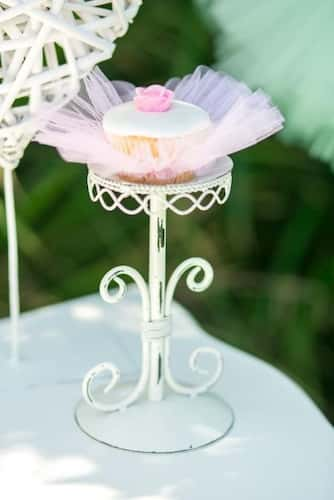 Make one stop here for first girl birthday ideas.
Toddler treats.
It is important to match the snacks to the likes of a one-year-old.  Make sure your food options are safe and satisfying for little appetites.  
Girly games.
Choose age appropriate games that require very little in the way of participation.  This age group is happiest sitting in a parents lap watching a puppet show or playing independently in a child safe area.
---
Other Party Animals Also Liked: