Danish Wedding Cookies
Danish wedding cookies are like flowers, you can't get enough of them at a wedding.  This buttery, nutty cookie rolled in sugar is often presented at weddings as good luck charms.  The wedding cookie ingredients have significant, symbolic meaning.  The nuts represent all the bumps in the road of life that the newlyweds are sure to meet, and the sugar represents the sweetness that surrounds a happy marriage.  Even though they are not really Danish, they look remarkably at home in a wedding cookie celebration.  
These cookies are popular worldwide and have been given as wedding favors for centuries. They are also known as Mexican wedding cookies, Greek wedding cookies, Russian teacakes, snowdrops, or butterballs.  The names may change, but the cookies basically stay the same.  
Stage the way you share
Danish wedding cookies!
In the blissful spirit of weddings, go all out with staging the way you share your cookies.  With the creative ideas found here, you can combine your favorite cookie with a presentation that makes it all look good together.  Thank your guests ever so sweetly by displaying Danish wedding cookie favors as imaginatively as possible.    
---
Sweet words.
When the setting is great and the decorative elements work well together, you don't need to do much more.  This plate of cookies looks quite inviting, punctuated by the beautifully framed sign and lace tablecloth.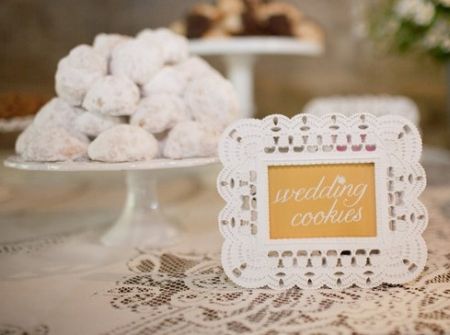 Photo courtesy of Jill Thomas Photography
---
Cookie razzmatazz.
It's all about razzle dazzle.  Richly colored blooms and flickering candlelight add much to the razzmatazz of these Mexican wedding cookies.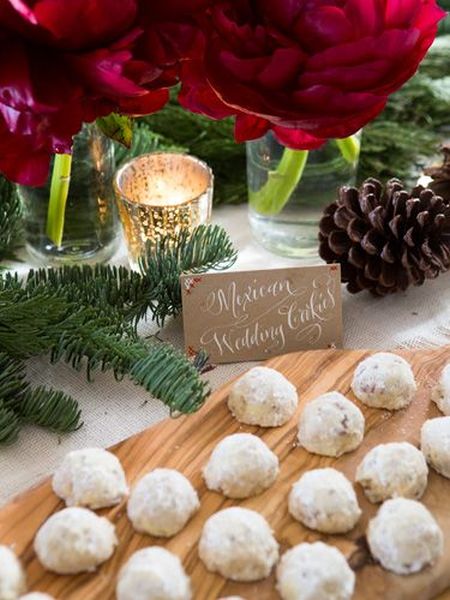 Photo courtesy of Country Living
---
Pretty box of cookies.
Pretty cookies deserve pretty packaging.  Whatever guides your choice, pick colors that strike your fancy and complement the wedding decor.  Finishing touches such as tying on a decorative ribbon tends to wrap things up especially well.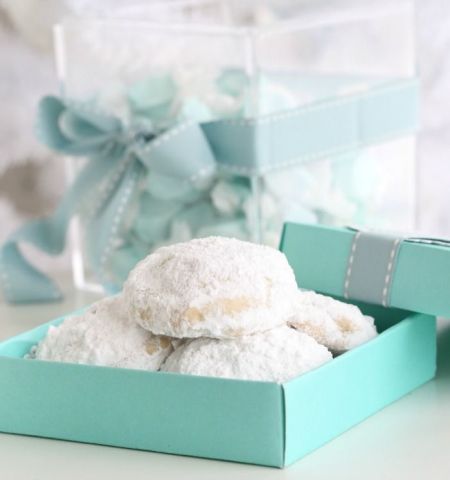 Photo courtesy of Passion 4 Baking
---
Perfectly understated simplicity.
The innocence of bright white is the source of inspiration for this wedding favor idea.  The scalloped edged box adds flair to this whimsical look.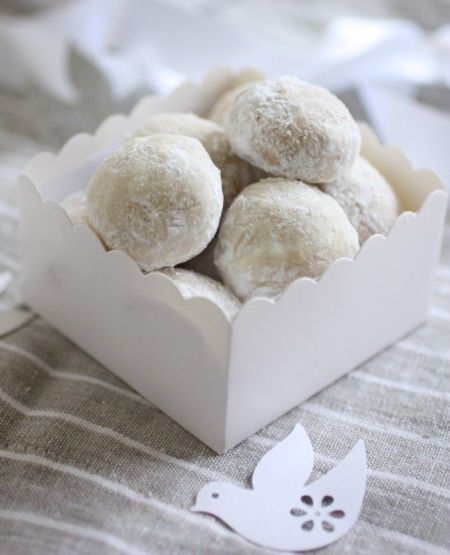 Photo courtesy of For The Feast

---
Twig and twine.
This favor packaging is anything but boring.  From the twig and twine to the antique box, it shows off your sweet wedding favors without sacrificing any of the natural elements.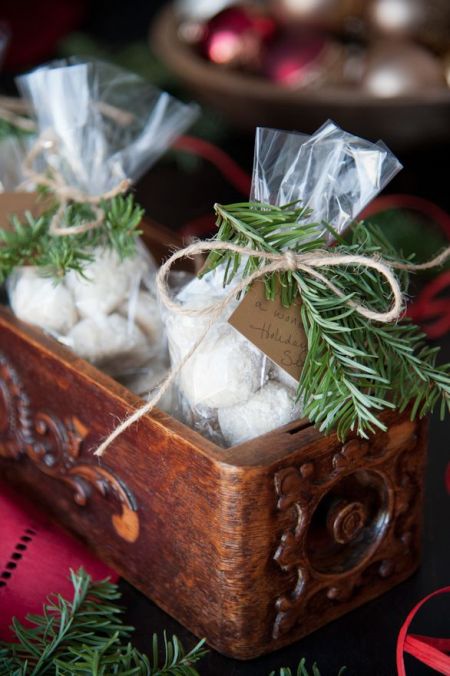 ---
Meant to be together.
As you can see here, traditional pewter trays will serve your Danish wedding cookies well.  For centuries according to tradition, mothers of both the bride and groom would bake these cookies for everyone to enjoy at the wedding reception.  Today, they are still commonly given as wedding favors for guests.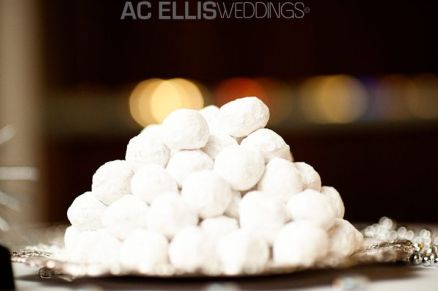 Photo courtesy of AC Ellis Photography
---
The power of one.
The sweetness of a cookie presentation can come by way of one.  Powdered cookies placed in paper cupcake liners make single servings look so good.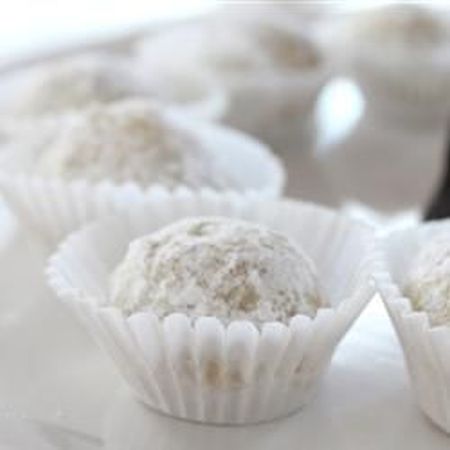 Photo courtesy of Allrecipes
---
Heaps of sweetness.
Heap groupings of Danish wedding cookies into footed serving dishes and scatter throughout the reception area.  This pewter serving piece fits most wedding decor, but don't feel compelled to use only traditional vessels, any will do as long as the style fits.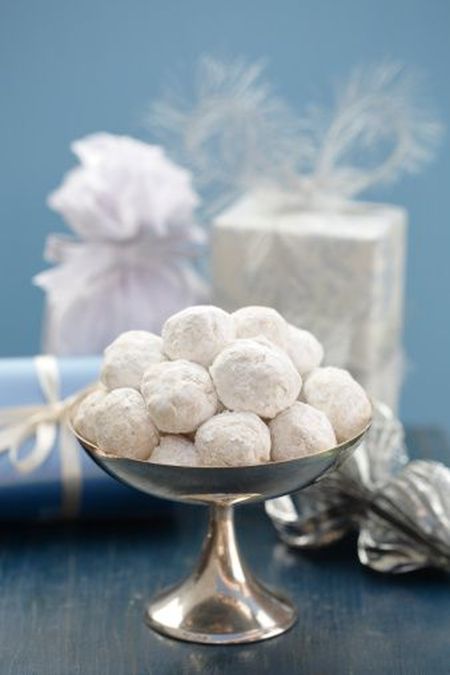 Photo courtesy of Step By Step
---
These tasty treats can easily be purchased in bulk for your big day, but if you are a DIY bride there are several delicious recipes to choose from online.  These rich, nutty pastries are rolled in powdered sugar and deliciously crumble in your mouth.  The original Greek version usually had finely ground almonds, but you could substitute pecans or walnuts instead.  If you are having a cookie table at your wedding reception, these traditional cookies would be a great addition.
Basic Mexican Wedding Cookies Recipe
1 cup butter
1/2 cup sugar
2 teaspoons vanilla
2 teaspoons water
2 cups all purpose flour
1 cup ground nuts (almonds, pecans, hazelnuts or walnuts)
1/2 cup powdered sugar
In a bowl, cream butter and sugar.  Stir in vanilla and water.  Add flour and nuts.  Mix until blended.  Cover and chill for 3 hours.
Preheat oven to 325 degrees.

Shape dough into balls or crescents.  Bake for 15 to 20 minutes.  Cool for 10 minutes.  Roll in powdered sugar.
---
Other Party Animals Also Liked: