Finger Foods
Finger foods are by far one of the most popular party appetizers.  Part of that success lies in the vast amount of recipes available that are simple, creative and delicious.  And when the food is good, guests tend to eat more.  Even if you tend to be scared of making your own appetizers, the skill level required of these recipes will make you smile.  It is important to keep things as uncomplicated as possible, so your guests will have a good time and so will you.

Ideas for Finger Foods
Finger foods are irresistible, bringing big bursts of flavor with the ease of self-serve.  From meatballs with grape jelly to a jalapeno wrapped in bacon, we have ideas for finger foods that are not only delicious, but easy to make.  Look no further, guests will be swooning over these party food ideas. 
---
Cheeseburger sliders.
The great American burger just got served.  Perfectly acceptable in miniature form, these burgers are more substantial than most finger foods.  Having everything ready to assemble as soon as the meat is cooked will save valuable time.  

Cheeseburger Sliders Recipe
Rolls
5 frozen Parker House rolls, thawed
3 tablespoons sesame seeds
Preheat oven to 350 degrees.  Divide each thawed roll into four balls.  Place each ball on a parchment lined baking sheet and cover with plastic wrap.  Allow to rise for 30 minutes.  Remove plastic wrap and brush each ball with melted butter and sprinkle with sesame seeds.  Bake for 12-15 minutes or until golden brown.  Allow to cool before slicing in half.
Meat
1 pound ground chuck
1 teaspoon salt
1 teaspoon pepper
1 teaspoon Mesquite liquid smoke
Combine ground chuck, salt, pepper and liquid smoke.  Mix well and divide into 20 patties.  Preheat grill to medium and cook each burger for 2-3 minutes or until cooked through.
Garnish each burger as desired...lettuce, cherry tomatoes, cheese, bacon, pickles, etc.

---
Meatballs with grape jelly.
Offering meat finger foods to guests desiring a heartier appetizer is a good idea.  These meatballs with grape jelly provide an option that will certainly be appreciated by meat lovers.  Even though the skill level required is low, the rave reviews will be high.
Meatballs With Grape Jelly Recipe
18 oz. barbecue sauce
18 oz. grape jelly
2 lb. bag frozen meatballs 
In a bowl, mix equal parts of barbecue sauce and grape jelly.  Place meatballs into crockpot and add the barbecue and jelly mixture.  Cook on high for 3-5 hours until meatballs are heated throughout
---
Stuffed mushrooms.
These bite sized appetizers are delicious and visually enticing.  Be sure to have backups, as these stuffed mushrooms tend to be among the most popular finger foods.

Stuffed Mushrooms Recipe
2 pounds fresh mushrooms
1 pound pan sausage
1/4 cup onion
1 box Italian breadcrumbs
1 (8 oz.) block of cream cheese
1 stick butter, melted
1/2 cup shredded cheddar cheese 
Rinse and drain mushrooms.  Remove stems from mushrooms and soak caps in melted butter.  Brown sausage and onion until meat is done.  Add chopped stems to cooked sausage.  Add bread crumbs and cream cheese.  Mix well.  Spoon mixture into mushroom caps and place in a casserole dish and bake covered at 350 degrees for 20 minutes.  Uncover, sprinkle with cheese, and bake for 5 more minutes.  
---
Pigs in a blanket with little smokies.
These delightful finger foods are tempting to guests of all ages.  Remember, the food offered doesn't need to be complicated, just something you know they will like.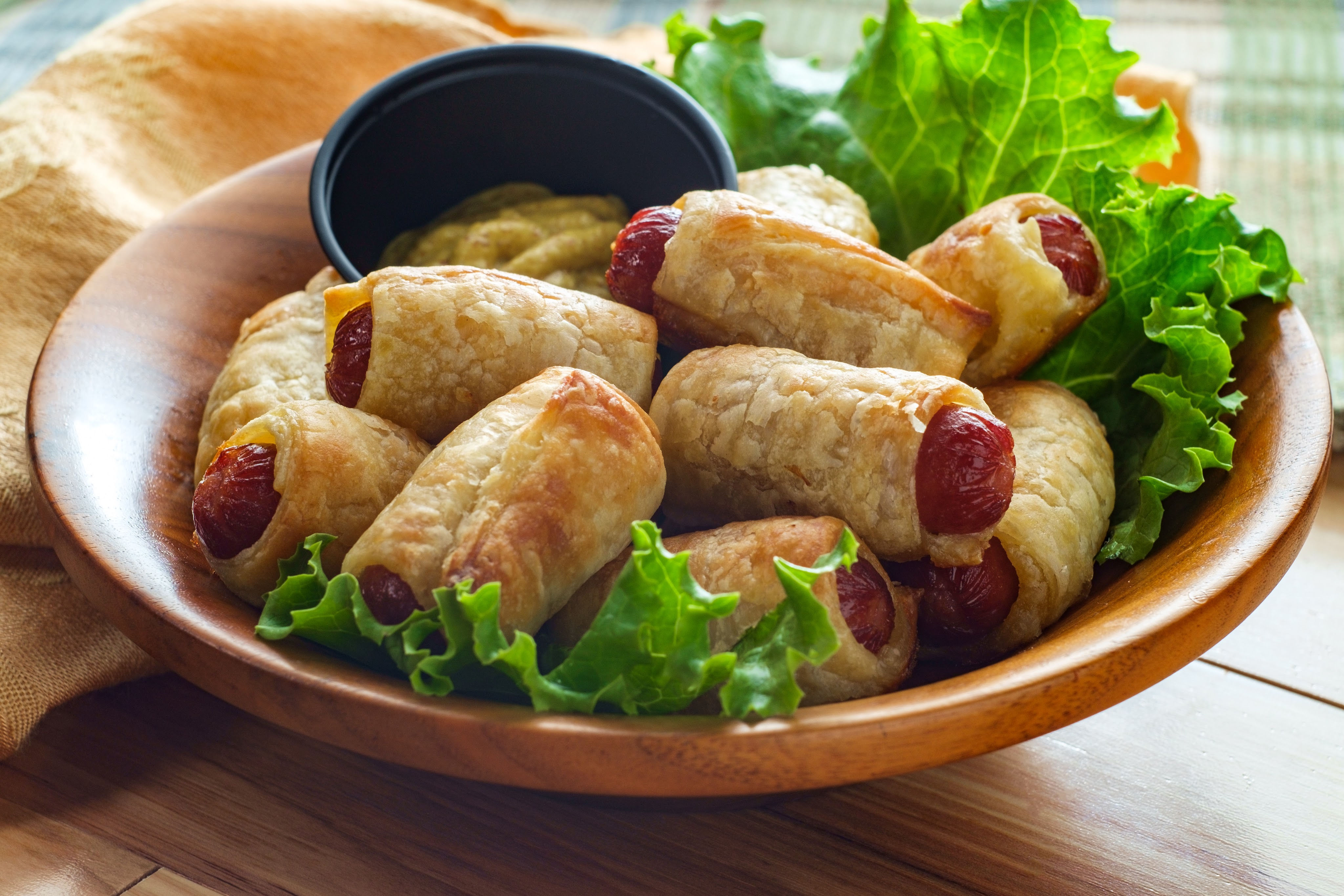 Pigs in a Blanket with Little Smokies Recipe
2 packages crescent rolls
1 16 oz. Little Smokies
Preheat oven to 350 degrees.  Open crescent rolls and separate into triangles.  Cut each triangle into three sections.  Wrap each section around a Little Smokie and place on baking sheet.  Bake 10 - 15 minutes until golden brown
---
Chicken wings in oven.
The heart of entertaining lies in welcoming guests and making them feel comfortable.  If you are planning a casual get-together with guests that know each other well, this buffaloed chicken will be a big hit.
Chicken Wings in Oven
2 lbs. chicken wings
1 T. baking powder
 3/8 tsp. salt
1/4 tsp. black pepper
1/2 tsp. paprika
1/2 tsp. garlic powder
Preheat oven to 425 degrees.  Pat dry wings using paper towels.  Combine the baking powder, salt, pepper, paprika, and garlic powder.  Evenly coat wings with seasoning.  Arrange on baking sheet and bake for about 1 hour, turning every 20 minutes until done.  
Buffalo sauce
1 bottle of hot sauce
1 stick butter
Melt butter and add hot sauce.  Pour over chicken wings.
---
Deviled eggs southern.
There is not a finger food more traditional than deviled eggs.  Southern folks have long appreciated the comfort that comes from a deviled egg.  The secret to success is how easy they are...easy for you to make and easy for guests to pick up.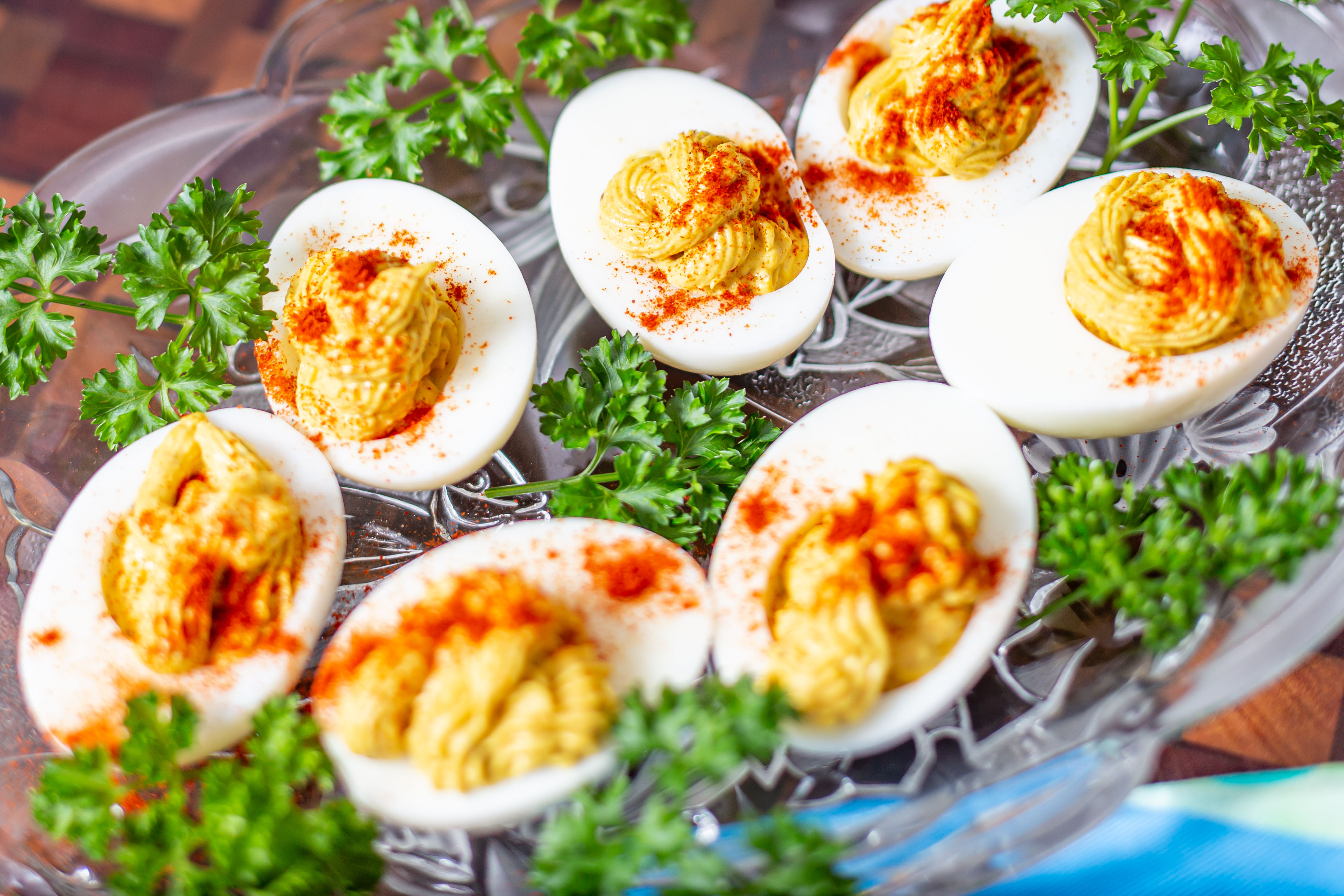 Deviled Eggs Recipe Southern
12 hard boiled eggs
6 tablespoons mayonnaise
2 teaspoons white vinegar
3 teaspoons yellow mustard
3 tablespoons sweet or dill pickle relish (optional)
salt
pepper
paprika (optional)
Peel hard boiled eggs.  Slice eggs in half lengthwise.  Remove yolks and place in bowl.  With a fork, mash up yolks.  Add mayonnaise, mustard, and vinegar.  Mix until smooth.  Stir in pickle relish if desired.  Salt and pepper to taste.  Scoop mixture back into the egg whites.  Garnish with paprika if desired. 
How to boil eggs for easy peeling:
Older eggs that you have had in the refrigerator for a week or two will peel
much easier than fresh eggs.  Add 1/2 teaspoon of salt to boiling water.
This helps prevent cracking and also makes eggs easier to peel.
Jalapeno wrapped in bacon.
The characteristics of good finger foods are always taste and presentation.  This jalapeno wrapped in bacon meets all the criteria in an irresistible way.

Jalapeno Wrapped in Bacon Recipe
24 medium jalapeno peppers
1 lb. spicy pork sausage
8 oz. shredded cheddar cheese
12 bacon strips, cut in half
Preheat oven to 375 degrees.  In a skillet, brown sausage over medium heat and drain.  Wear disposable gloves to protect your hands.  Cut each pepper in half and remove seeds and ribs.  Combine the sausage and cheese and stuff into jalapenos.  Wrap each with a piece of bacon and secure with a toothpick.  Bake for about 20 - 25 minutes until bacon is brown. 
| | | | |
| --- | --- | --- | --- |
| | | When cutting jalapeno peppers, always use disposable gloves to protect your hands.  Also avoid touching your face. | |
---
Stuffed jalapeno peppers.
As we've all been told, it's what's inside that counts.  These stuffed jalapeno peppers will spark the appetite and the simple effort required makes a big difference.
Stuffed Jalapeno Peppers Recipe
10 jalapeno peppers
6 oz. cream cheese
1/4 cup cheese of your choice
1 tsp. garlic powder
1 tsp. onion powder
Preheat oven to 350 degrees.  Wear disposable gloves to protect your hands.  Cut each pepper in half and remove seeds and ribs.  Mix cream cheese, garlic powder, and onion powder.  Spread mixture into pepper halves and top with cheese of choice.  Bake on lightly greased baking sheet for 25 minutes or until cheese is golden.  Top with roasted red pepper, chives, or crumbled bacon.

Cucumber sandwiches.
Finger sandwiches are a staple party food idea.  With a handful of ingredients, these cucumber sandwiches offer a light, refreshing food option.  Mixing the cucumber mixture the day before will allow the flavors to blend, leaving the assembly until closer to party time.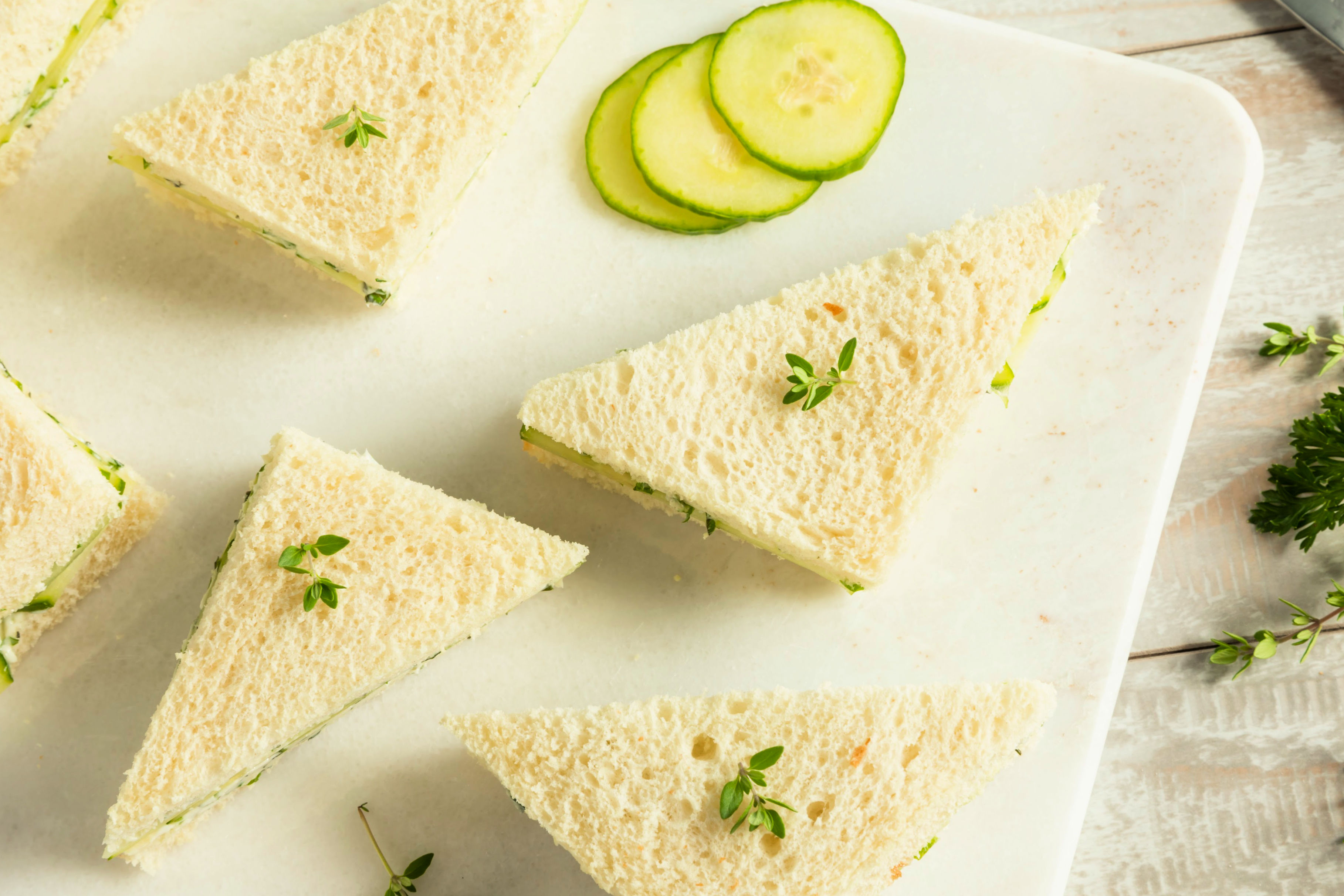 Cucumber Sandwiches
8 oz. cream cheese, softened
3/4 cup mayonnaise
1 large cucumber
Green food coloring, if desired
Peel and slice cucumber lengthwise.  Scrape the seeds out and pat dry.  Finely grate cucumber.  Drain in big tea strainer and allow cucumber to drip in strainer until dry.  Mix all ingredients including food coloring in a food processor.  Spread on favorite bread (we prefer white) and remove the crusts if desired.
---
Deli sandwiches.
Keep finger foods festive and fuss-free with deli trays.  This allows guests to make their own sandwich just the way they like it.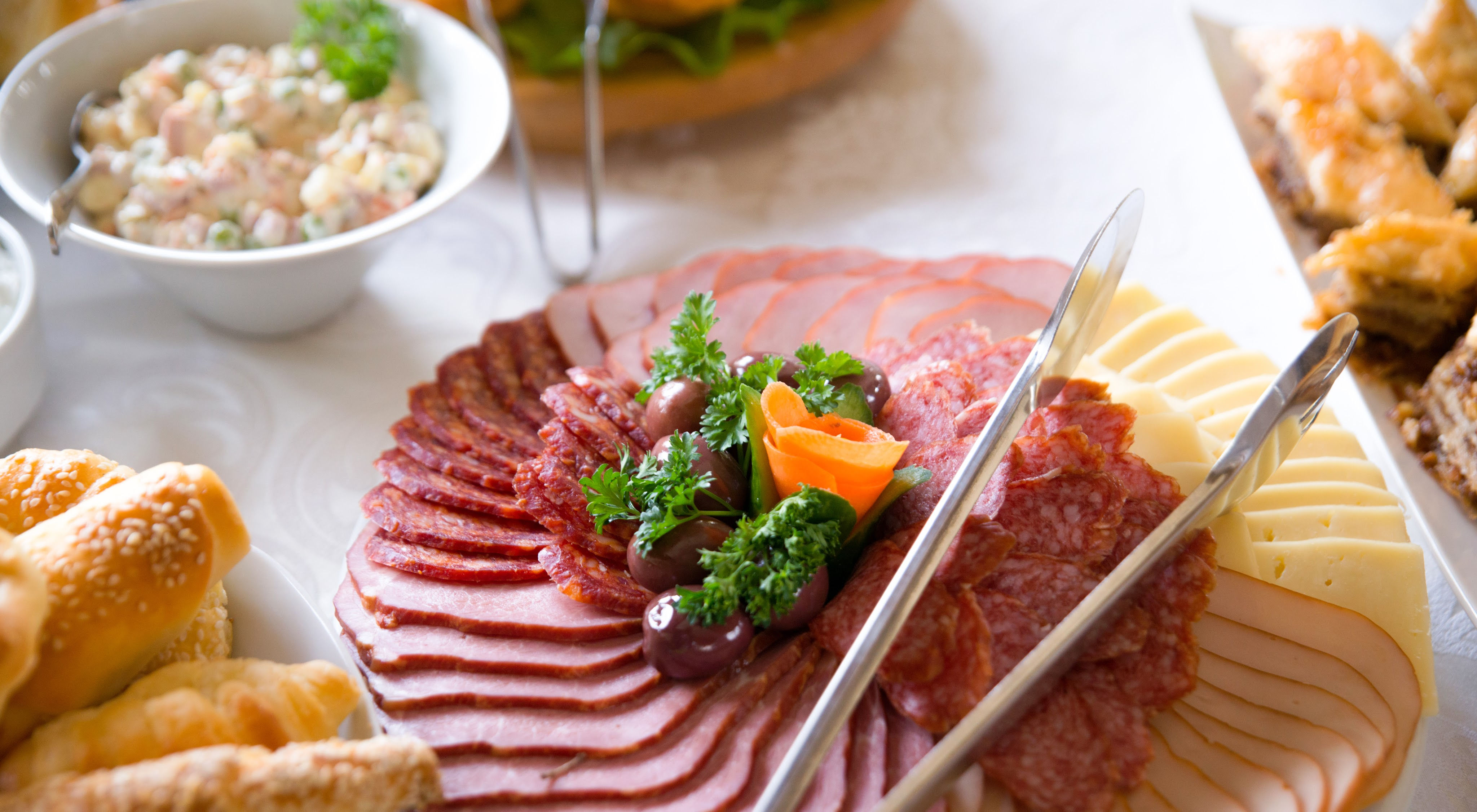 ---
Pulled pork sandwiches.
This American classic has been scaled down to a slider size without sacrificing taste.  Making the pulled pork the day before actually works to your advantage.  The effort required to assemble sandwiches on party day is minimal.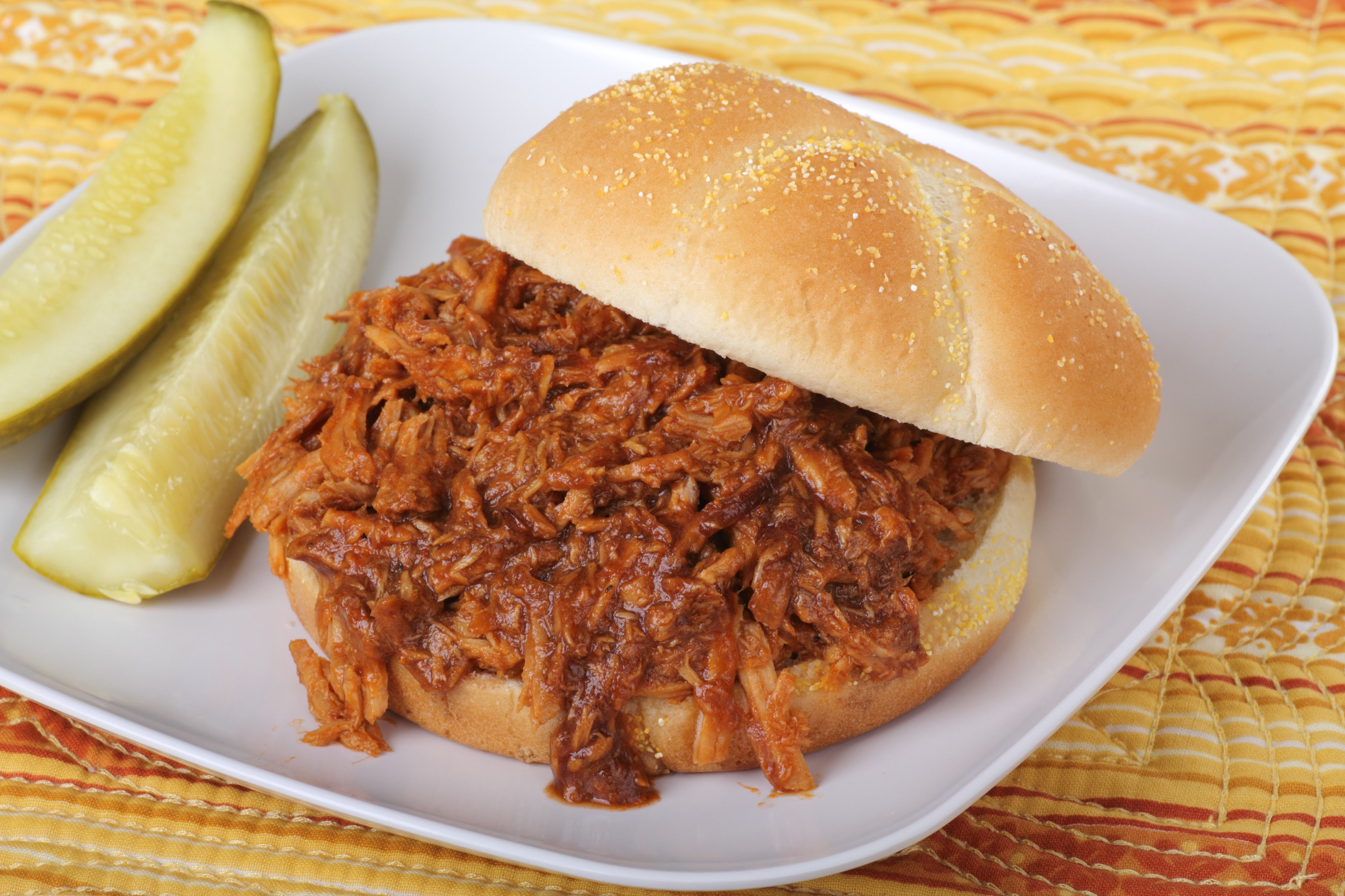 Recipe for Pulled Pork Sandwich
1 onion (sliced)
1 pork roast
4-5 cloves
1 bottle of barbecue sauce
Slice one onion in bottom of crockpot.  Put in one pork roast either loin, shoulder, or Boston butt.  Add 4-5 cloves and one cup water.  Cook approximately 8-10 hours until meat is done.  Remove meat and cool.  Shred meat while removing any fat.  Discard liquid from crockpot.  Return pulled pork to the crockpot.  Stir in one bottle of your favorite barbecue sauce.  Cook on low until sauce is heated.  Serve on buns and enjoy.
---
Ham and cheese sandwich.
For those who don't like to venture outside the box, a ham and cheese sandwich is the perfect choice.  Possibly one of the most traditional appetizers, it still looks festive and tastes good.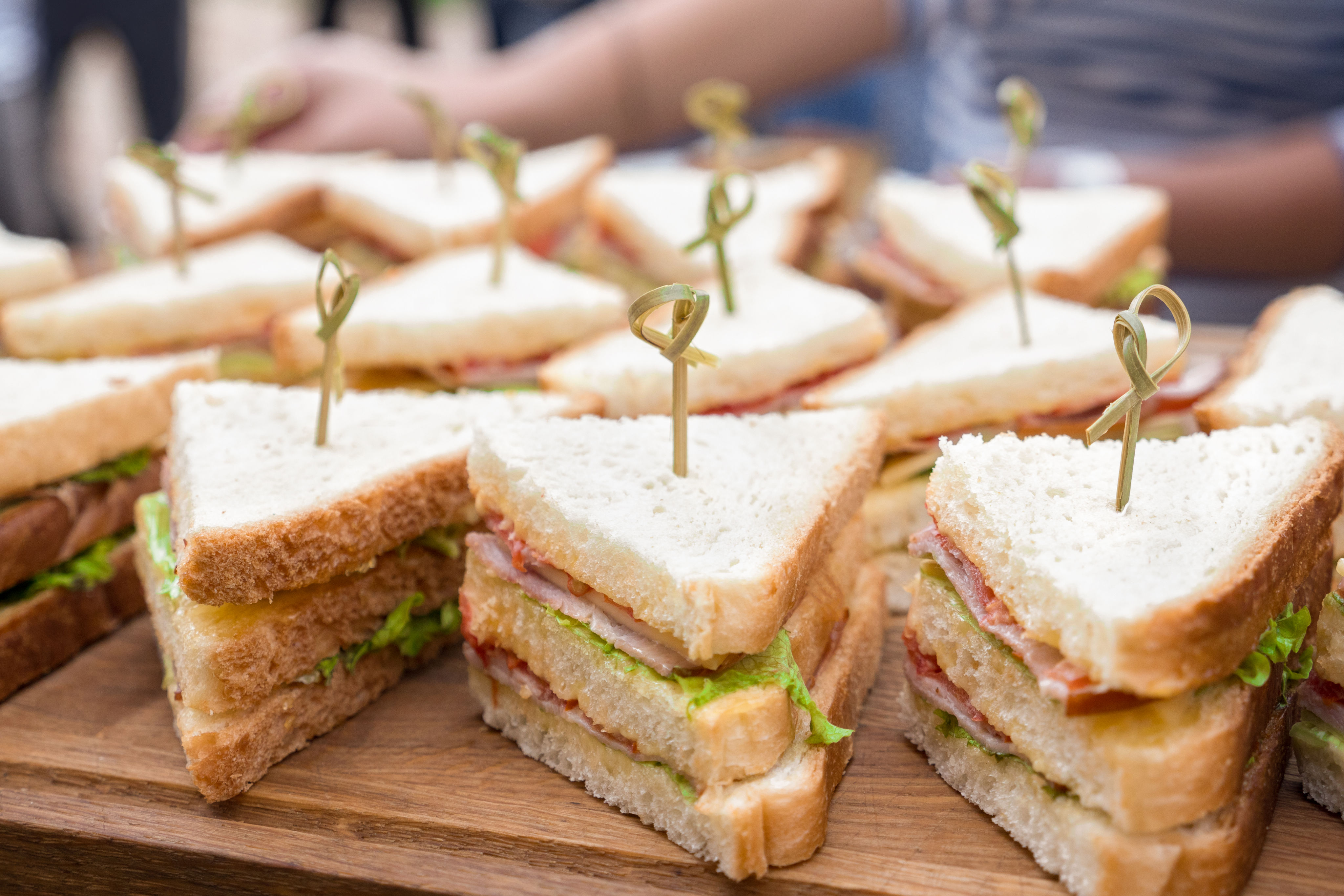 ---
Sub sandwich.
It is impossible to know everyone's likes and dislikes when it comes to food, so consider familiar food that everyone loves.  This sub sandwich will go a long way and can easily be prepared in advance.  Condiments served on the side puts the guests in charge of what they like and don't like.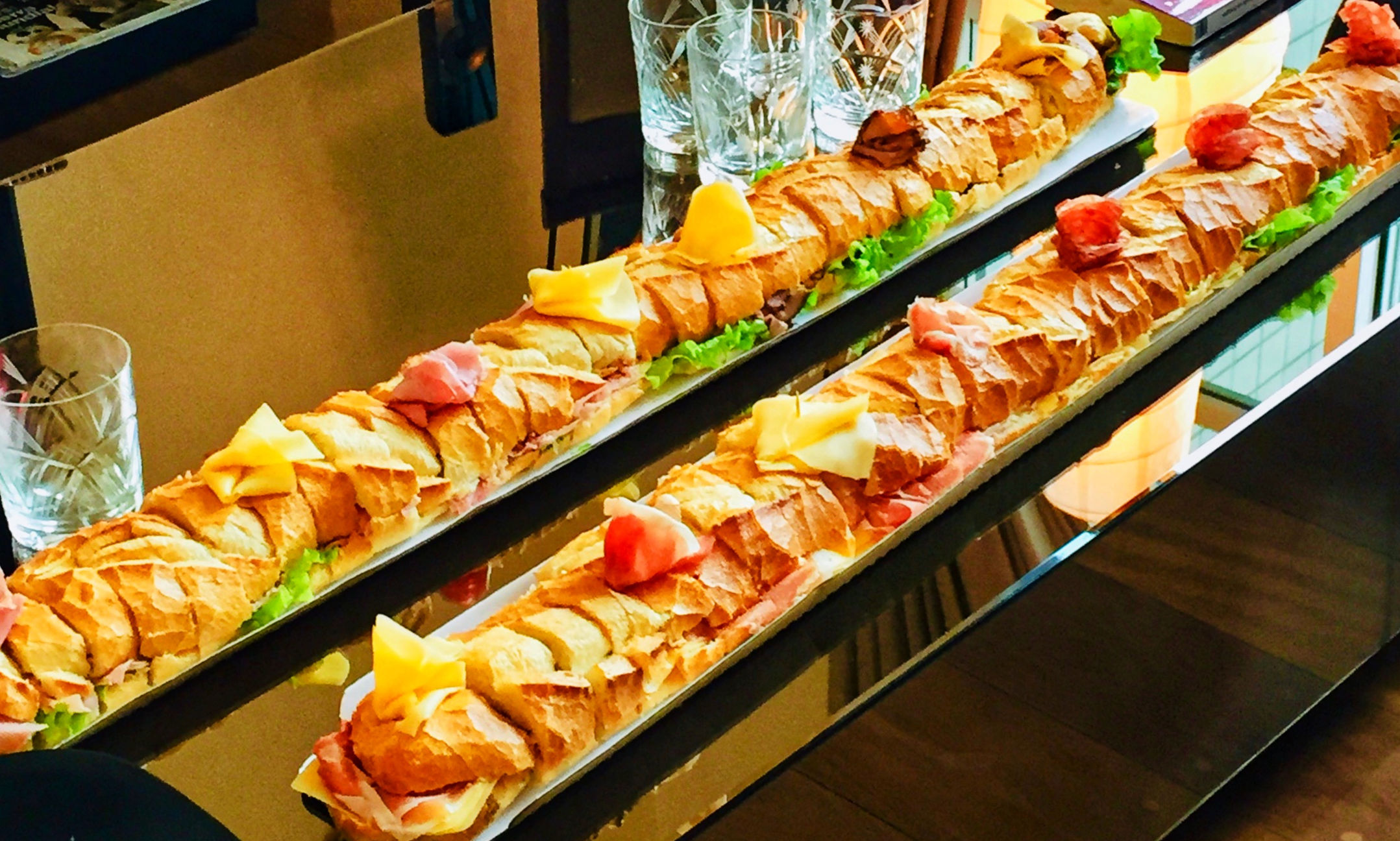 How to make a Sub Sandwich
Create your sub sandwiches by using various cold cuts (ham, turkey, roast beef, salami, pepperoni), cheeses, and vegetables.  Using an electric knife, cut into party size portions.
---
Other Party Animals Also Liked: