Hershey Kiss Rose Favor
A Hershey Kiss rose favor will have love in full bloom on your big day.  Beautiful edible roses can be made out of the most recognizable candy of all time, the Hershey Kiss.  With a little effort and creativity, you can make one of the sweetest diy wedding favors infinitely memorable.  As with all roses, each is distinctive but they should all work in harmony with one another to achieve the desired look.  Using colors that are meaningful to you is a great way to express yourself without adding extra expense-a rose is a rose.  And, it is just such fun if everyone is involved in the production of the wedding favors, so be sweet and enjoy the chocolate. 
Wedding favors are considered parting gifts, but can be given any time during the reception.  Just be sure that everyone gets a good view of this delicious design element with an amazing display.  We love clever ways to present your favors to your guests while achieving the desired look.

Make the most of a Hershey Kiss rose favor
with a stylish presentation.
A single red rose.
A single red rose promises life long devotion and love.  At a sit down dinner, we love the idea of placing a single rose at each place setting.  Placed on a white menu card, this red rose really captures your attention while coordinating beautifully with the other elements of the table.

---
From the Mr. & Mrs.
Set up a favor table and present the rosebuds in an unexpected container such as this vintage suitcase.  Placed near the exit, this allows each guest to take one as they leave.

---
A rose with meaning.
Present your Hershey Kiss rose favors at the beginning of your reception.  Attaching a rosebud to place cards allows guests to pick up their favors while finding their assigned seats.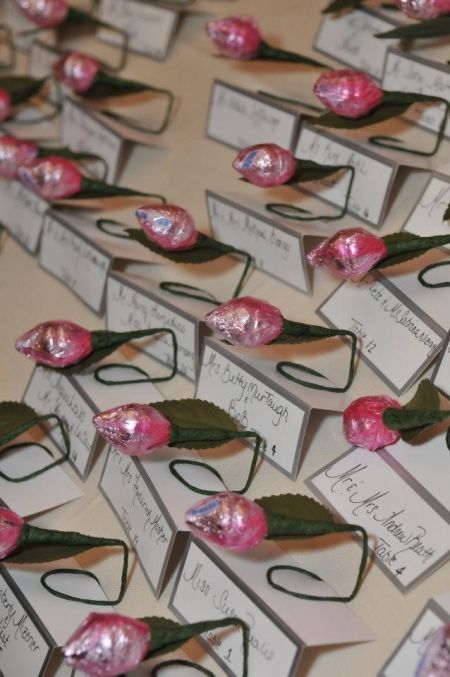 ---
Be your own florist.
Keep cost low with rosebud centerpieces for the middle of each table.  These easy to make centerpieces offer guests a sweet thank you token.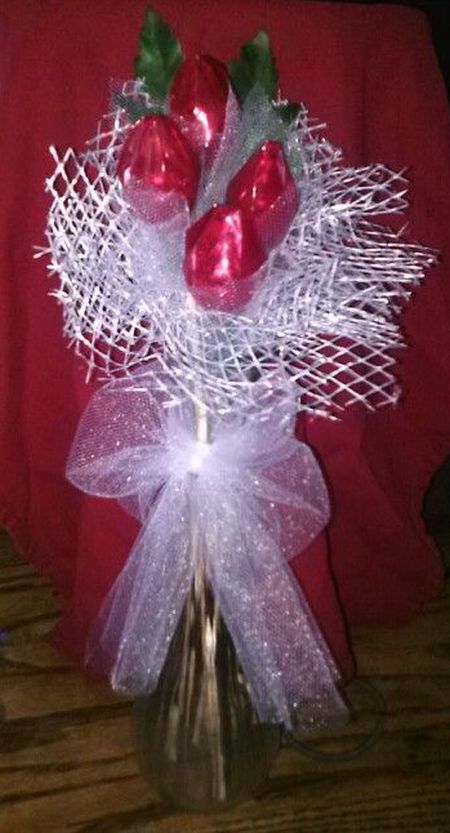 ---
Roses are red.
Place a large arrangement of roses on a favor table, alone or in combination with each other.  The pretty red roses will dress up the table and transform a simple diy idea into a special occasion.

---
Tips you should know. . .
Before starting, let's go over a few tips to remember.  Inspect each kiss.  Make sure each wrapper is intact.  If you are using glue instead of tape, do not use too much.  Chocolate and glue are not a yummy combination.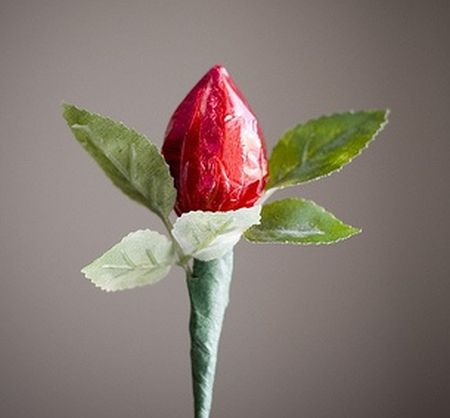 For each rose, you will need scissors, red plastic wrap or cellophane, two Hershey Kisses, glue or double sided tape, florist tape, eight inches of floral wire or one pipe cleaner, and fake rose petals (optional).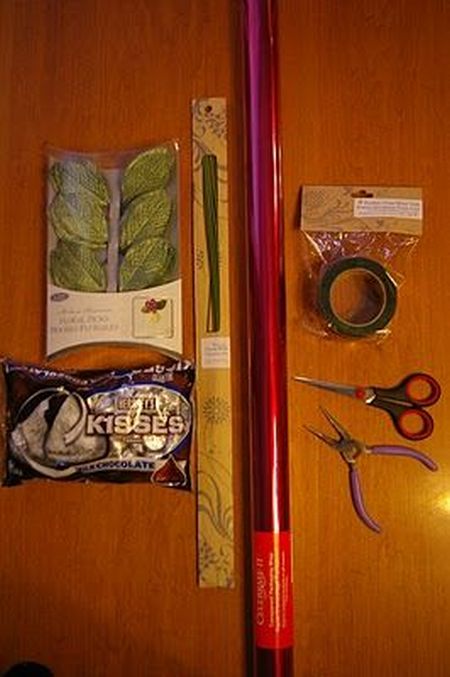 Photo courtesy of Sun Scholars
Hershey Kiss rose favors are easy to diy and here's how. . .
Cut 4 inch by 4 inch squares.
Glue or tape wide bottom of 2 kisses together.
Place the 2 kisses in the plastic wrap with the tip of 1 kiss in the center.
Hold the wrap over top of the kisses.  Make sure the edges of the wrap meet at the bottom of 1 of the points of the kisses.
Use a 3 inch piece of floral tape to wrap around the end of the open wrap to seal the kisses inside.
Insert floral wire or pipe cleaner into the base gently.  Do not penetrate the chocolate.
Use extra floral tape to attach the pipe cleaner at the base of rose.  Continue to wind the floral tape in a diagonal manner down the pipe cleaner.  Add fake leaves if desired.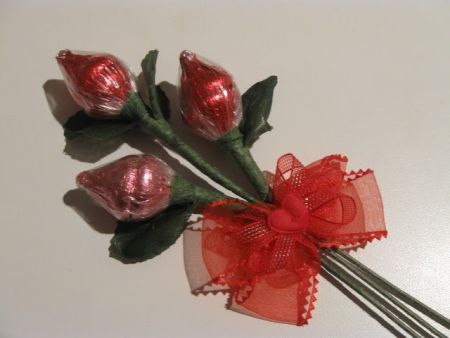 Photo courtesy of Tips, Treats & Treasures
---
Other Party Animals Also Liked: