Jordan Almond Wedding Favors
Jordan almond wedding favors are meaningful and traditional.  The almond's bittersweet taste and famous candy coating represent the hope for a sweeter future for the new couple.  Almonds should always be served in odd numbers because this symbolizes that the newlyweds will never be divided. Five almonds is the most popular number as each one represents a wish for the bride and groom to have health, wealth, happiness, fertility and longevity.
It's always a sweet idea to honor the history behind Jordan almonds.  Your guests will love this short poem tucked inside their wedding favor.
Five sugared almonds for each guest to eat
To remind us that life is bitter and sweet.
Five wishes for the new husband and wife
Health, wealth, happiness, children & a long life.
Jordan Almond Wedding Favor Ideas
Looking for ideas to plan the favor presentation of your dreams?  Inspiration can come from anywhere-that's where all the details and fun come in.  Creating the perfect backdrop that pulls everything together that is completely functional is the goal.  We would like to share with you some of our favorite display ideas that share Jordan almonds in a unique way.
---
Rich and dramatic neutrals.
Neutrals can be rich and dramatic with the use of white as an accent color.  Luxurious ribbon and tulle look lovely together in these easygoing neutral tones.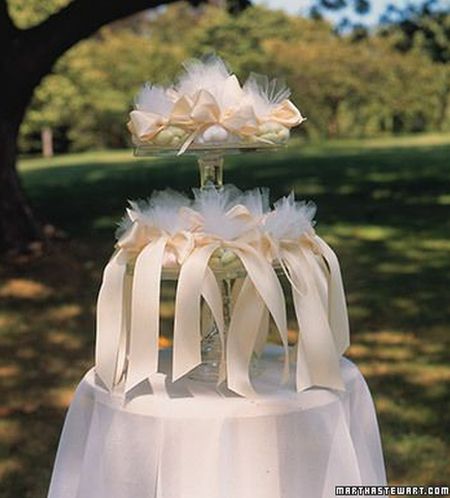 Photo courtesy of Martha Stewart Weddings
---
Love rocks.
When one color sets the stage, the grouping has a visual anchor and will not appear busy or chaotic. The many elements of this favor display including the woven box of Jordan almonds all look harmonious together.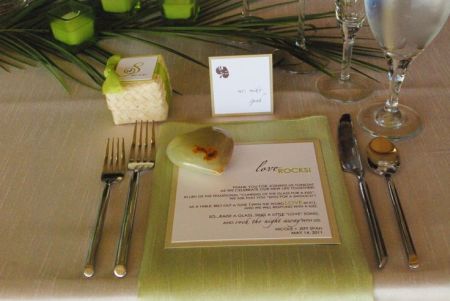 Photo courtesy of The Walk Down the Aisle
---
Past perfect.
Creamy white is the key to creating this nostalgic past perfect look.  The delicate hand stitched handkerchief and gauzy bow create a fresh, sophisticated interpretation of vintage.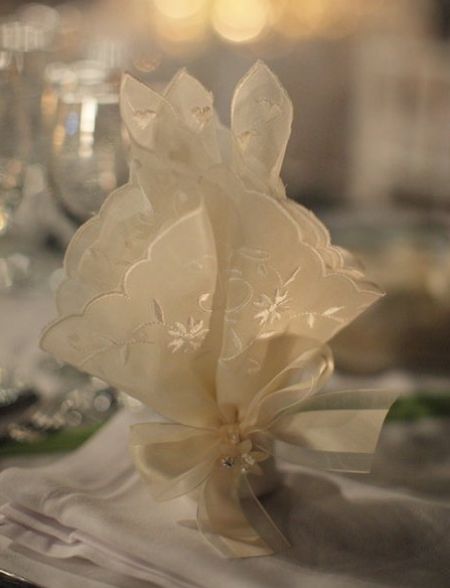 Photo courtesy of Private Events by VDouros
---
Clearly Jordan almonds.
An imaginative favor display can heighten the interest and often mean the difference in whether your favors are taken home or left on the tables.  Here, wine glasses clearly are the perfect vessel to hold these vibrant Jordan almond wedding favors.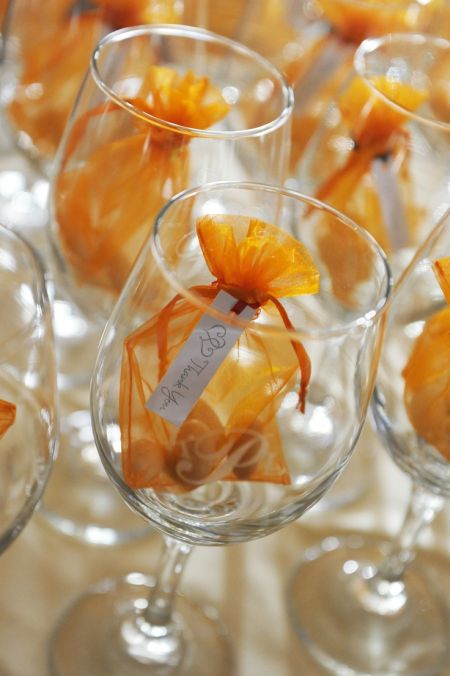 ---
A well dressed table.
Use your table setting to create a charming, welcoming feeling for your guests.  To save precious space, this table setting demonstrates everything needed in one place.  The simple glass bottles filled with Jordan almonds extend a touch of yellow to the plate.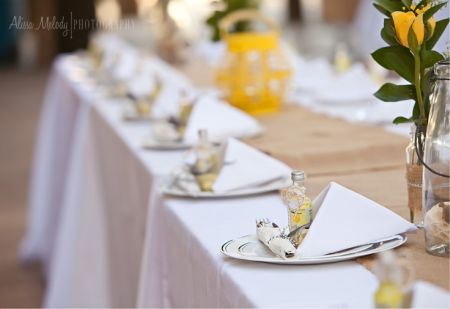 Photo courtesy of Alissa Melody Photography
---
Let them eat candy.
This candy buffet is as much a feast for the eyes as it is for the mouth.  The mix of colors, textures, shapes, and sizes make this favor display a masterpiece.  Jordan almonds are the perfect addition given the wide array of colors available.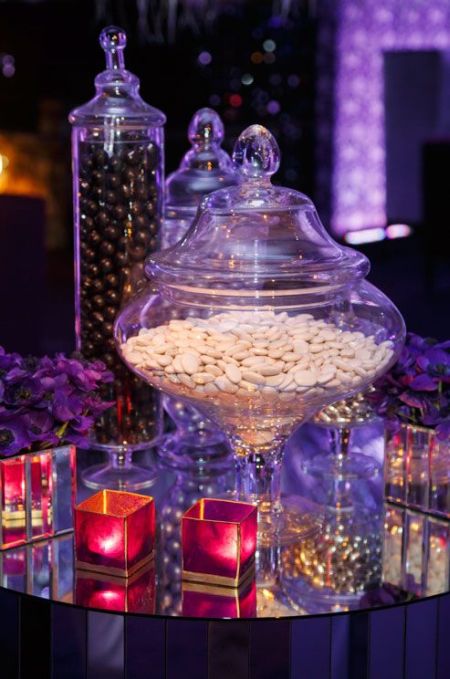 Photo courtesy of Colin Cowie Weddings

---
Brown bag it.
Think about convenience by adding small brown bags for guests to fill with Jordan almonds on the way out.  The perfect ending to a special day.
---
Blooming with soft color.
The lighthearted feel of this favor display is achieved by its color scheme and its embellishments, which support each other beautifully.  The soft pastel Jordan almonds; galvanized tray; and whimsical cones are a delightful combination.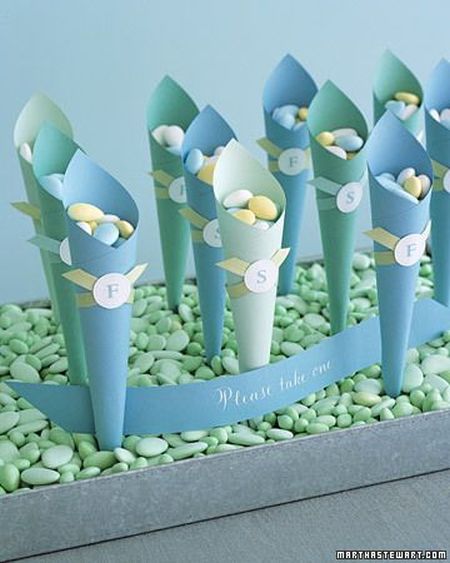 ---
Robins' eggs.
Jordan almond wedding favors masquerade as robins' eggs atop a miniature bird nest.  The addition of the greenery is a special touch that helps embody the feeling of nature.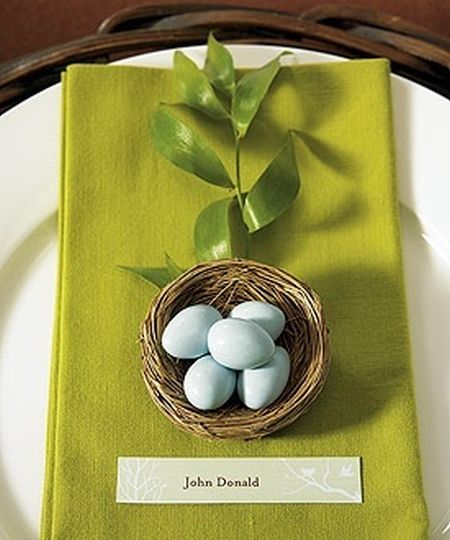 ---
Decorative boxes.
Presented in decorative boxes, these Jordan almond wedding favors get the notice they deserve. Coordinating the color of the candy to the ribbon is a planned idea that matters.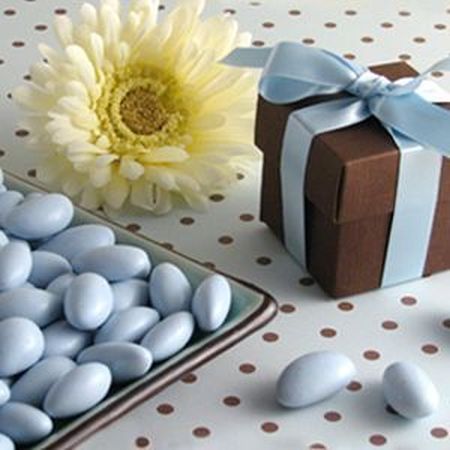 ---
Italian confetti.
Here you have the perfect balance of artfulness and information.  This beautiful picture frame serves as the perfect outlet to display the rich history of Jordan almonds.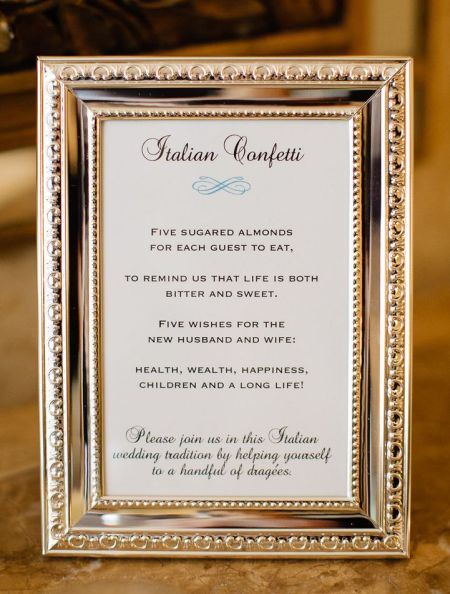 Photo courtesy of Sarah Postma Photography
---
Love is sweet.
Special touches that reflect the theme are a sweet addition to wedding favors.  This tag tells the story of Jordan almonds where everyone will see it.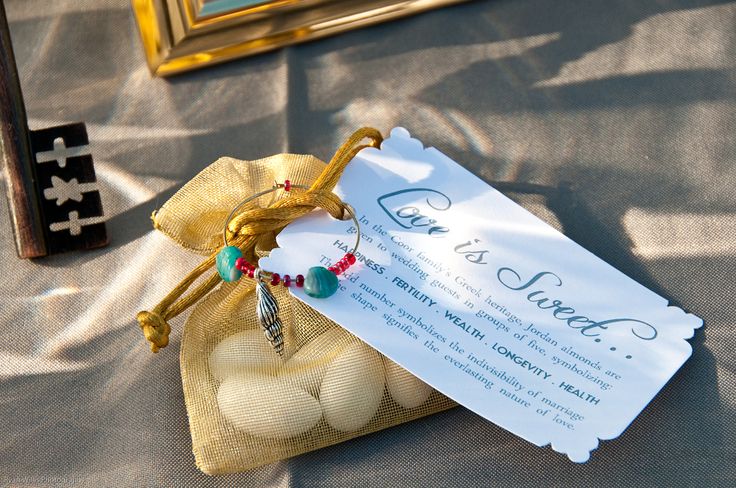 ---
Subtle jesture.
Small details can contribute in a big way to the overall look.  Here, Jordan almonds tucked into the tablescape fit perfectly and your guests will appreciate an unexpected treat.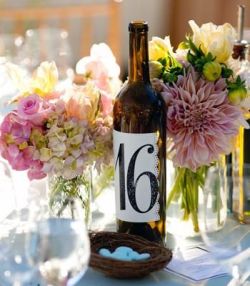 Photo courtesy of Gertrude & Mabel Photography

---
Other Party Animals Also Liked: