50th Birthday Party Games
50th birthday party games are a great time filler and a great way to ease the stress of age.  There is still great enthusiasm for indulging in birthday games that most of us remember fondly from our childhood.  Staging your own activities allows the Honoree and age to be the center of attention, while the guests relax, unwind, and have a good time.  Judging the greatness of 50th birthday games is often determined by the size of the laughs or the memories recalled.  We hope you celebrate the big 5-0 with fun and games that get even better with age.
Just for fun, here are 50th birthday party
games to keep the big kids entertained.
What's exciting about photo booths is that the props relate entirely to the Guest of Honor while featuring the guests in an unforgettable way.  It will certainly go down as one of the most memorable 50th birthday party activities and the pictures will last forever.
Photo Backdrops
Selfie Photo Frames
Photo Props
Photo Mug Shots
50th birthday piñata.
Enter your second childhood by taking a swing at a piñata.  Fill with a mix of candy or add to the fun with pill bottles of candy.  Another option is to fill with small envelopes with one containing a gift card.  As soon as the envelopes spill out, guests will dive for the lucky envelope.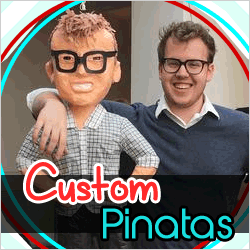 Guess my age.
There is a whole host of fun to be had with old photographs.  Display photos of the Honoree at different times of life.  Guests must guess the age of Honoree for each photo.

Photo courtesy of Meghan Elizabeth Photography
Birthday wishes.
This makes a great keepsake for the birthday person as guests share memories and well wishes.
Python printable games.
Choose your favorite 50th birthday party games, download, and print.  Feel free to get everyone participating and laughing out loud.

How well do you know the Honoree?
Before your guests arrive, have your Honoree answer a list of questions about themselves.  Hand out those same questions to your guests.  After the questions are all answered, call out each question to see who knows the most about the Honoree.  The person with the most matches to the Honoreee's answers wins.
Photo courtesy of Burlap and Lace

Door prizes.
Hand each guest a scratch card as they arrive for a chance to win door prizes.  Be sure the number of winning cards match the number of prizes you plan to award.   Guests simply scratch and claim their prize.
Spinning wheel.
Spin the wheel and claim your prize.  This activity takes a bit of preparation before the party, but is easy to play and worth the effort.

Did you ever think Pinatas were just for children?  Boy, Were You Wrong.
Scavenger hunt.
Have a pocket or purse scavenger hunt.  A list of items might include:  brush, medicine, 2006 penny, old photograph, photograph of a baby, social security card, gum, $100 bill, finger nail file, eye glasses, money clip, pocket knife, handkerchief, store coupon or an ink pen.  The person who produces the most items wins.
---
Lawn games.
Put your game face on and test your skills with outdoor lawn games.  Fill your yard with fun 50th birthday party games such as horseshoes or croquet for guests to enjoy.  Lawn games offer hours of entertainment for guests of all ages. 

Photo courtesy of Anne Marie Photography
---
Casino party game ideas.
Hit the jackpot with these games for your casino birthday party.  So much fun, everyone will be winners.   
---
Trivia games.
Host a trivia night right at home.  Just break out the trivia games and let the fun begin.
---
Fun ideas.
Get ready to make some memories with hilariously funny games.  Entertain guests with these games that are sure to be a hit.
---
Bucket list game.
Have guests put at least one idea in the bucket.  At the appropriate time, present the bucket to the Honoree and everyone will enjoy celebrating the future.  Amazon offers this game on-line as well as many other 50th birthday party games.   
---
Life starts at 50.
Stage your game area with 50th birthday themed pylons.  After all, the game participants need to exercise caution while they are having too much fun!
---
Other Party Animals Also Liked: