Halloween Cupcake Ideas

Halloween cupcake ideas are growing in popularity these days.  But, it is not just for the professional cake decorators any more.  Anyone can satisfy their need to disguise while decorating frightfully fun cupcakes.  Whether you want to impress someone or freak them out, there are easy Halloween cupcake ideas to fit any gruesome gathering.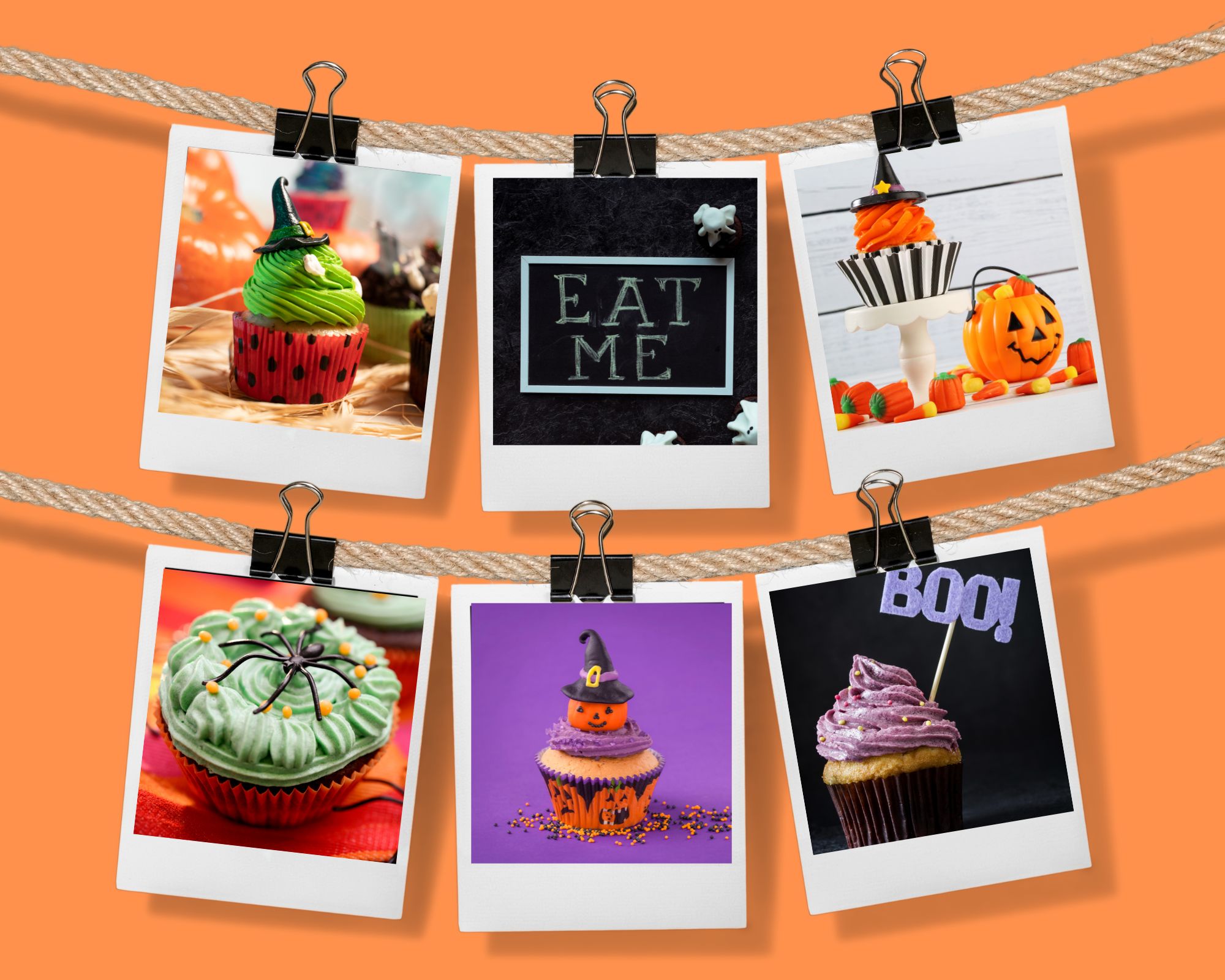 The Halloween cupcake ideas
provided here are sure to please
ghosts and goblins of all ages.
Scare up some easy Halloween cupcakes right in your own kitchen.  With spooky cupcake liners and a store bought cake mix, baking is quick and no fuss.  The fun part is the decorating--even if you have never tried cake decorating, don't let that stop you.  After all, you get the pleasure of eating your mistakes.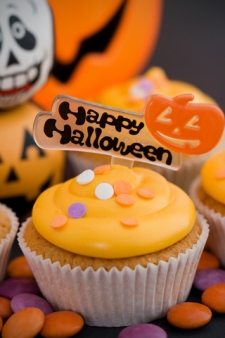 Wicked Fun!
Choosing Halloween cupcake designs can be spine tingling fun, so pick your favorite or make a variety.  If the spirit moves you, experiment with flavors, fillings, frostings, and toppings.  Display your small cakes in a bewitching cupcake wrapper or festive cupcake stand for a boo-ti-ful presentation. 
Witch color to choose?
These bewitchingly good treats are accented with neon food coloring and pretty cupcake wrappers.  The hats were made from  fondant and edible glitter.  Make it easy, substitute store bought cupcake toppers instead of making fondant hats.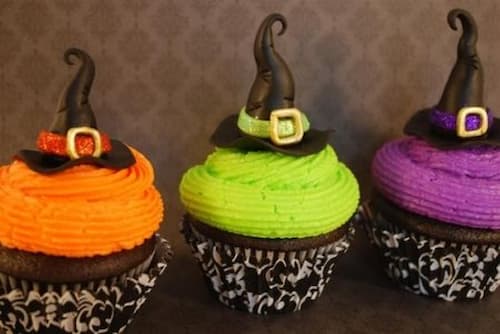 Boo-tiful Treats!
Eat, drink, and be scary with these adorable little ghosts.  Pick your poison.  Ghosts can be made with icing, marshmallow icing, meringue, or ice cream.  Decorate with chocolate chips.  So easy and so perfect for your Howl-O-Ween party.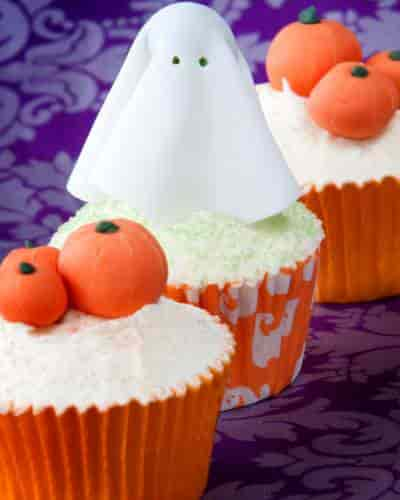 Ghosts, skeletons, and graveyards, oh my!
The magic of Halloween will have these spooky cupcakes disappearing before your eyes.  Deceptively easy to make, these sweet treats are the perfect addition to your Halloween party.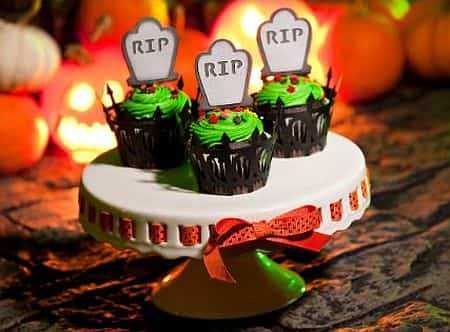 Witch parking, all others will be toad!
An upside-down ice cream cone makes a wicked witch's hat.  Whip up your favorite cupcakes and  icing.  Change up the look of your favs with food coloring.  Heap on the icing.  Dip open end of cone into melted chocolate.  Immediately attach to chocolate wafer cookie to form a witch hat.  To allow chocolate to harden let stand for 30 minutes.  Decorate the hat with icing or candies.  Now that's some witchful thinking.

Oh the webs we weave, when we practice to deceive!
Your Halloween table will be caught up in a web of deception with these creepy crawlers.  But, don't let these fuzzy spiders deceive you, they are really quite sweet.
Photo courtesy of Little Birdie Secrets
Make a variety of treats for guests to sink their fangs into!
For maximum thrills and chills, create a parade of magic and mystery that is Halloween.  Not only are you providing guests with choices, but also creating a more interesting presentation.

Bubble, bubble, toil and trouble!
Cast a spooky spell on your guests with these cauldron cupcakes.  They are guaranteed to scare the witch out of you.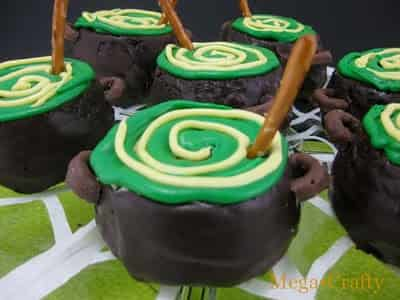 Candy corn is a true American classic!
For ghosts and goblins with a serious sweet tooth, it does not get any sweeter.  These cupcakes feature a mound of icing with Halloween's signature candy on top.  Making the cupcake the colors of candy corn makes them irresistible Halloween cupcake ideas.  Poof, they are gone!
Photo courtesy of Our Best Bites
Adults love Halloween, too!
With this style made simple approach, you can offer a classic Halloween cupcake for all ages.  The drama of black and white liners adds to the boo-ti-ful presentation.
Photo courtesy of Lemon Drop

Witch way to the party?
This witch has not mastered landing yet, but what better place to crash your broom than in a bed of icing.  Entertain your guests with these humorous and tasty cupcakes.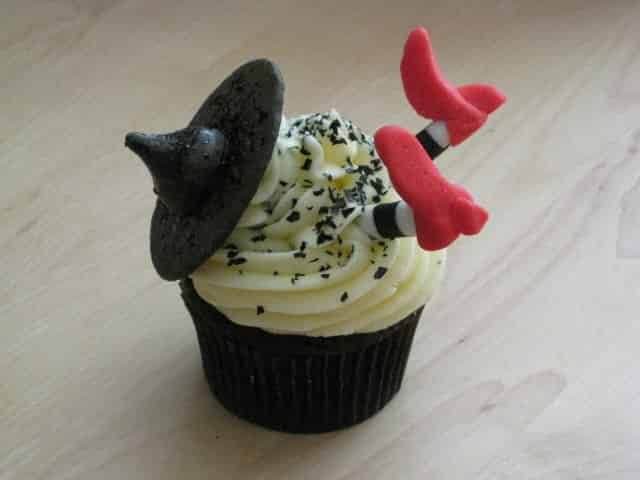 The eye's have it!
Ever get the feeling someone is watching you?  These spiders appear to be gazing back at you, and are sure to creep into the hearts of everyone.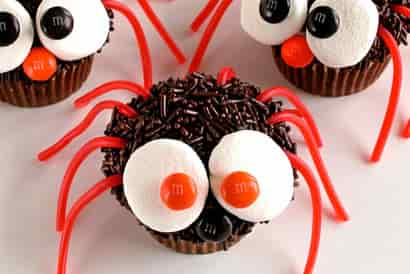 More Easy Halloween Cupcake Ideas
Gummy goblins . . . Frost a cupcake with orange icing.  Pipe a small mound of orange icing onto the center of frosted cake.  Secure a gummy topper in the center of the icing mound.  Add the words BOO or MEOW.  Super easy!

Pumpkins . . . Frost a cupcake with orange icing.  Dip frosted cupcake in orange sugar sprinkles for sparkle.  Pipe on a jack-o-lantern face.  It doesn't have to be perfect.  Too cute!

Witchy . . . Soak spaghetti noodles and one elbow macaroni noodle in black food coloring and allow to dry.  Frost a cupcake with green icing to be used for the witches face.  Invert an ice cream cone on top of cupcake to form the witches hat.  Add dyed spaghetti noodles to the sides and back of hat for hair.  Use two mini chocolate chips for eyes.  For the nose, insert the elbow macaroni.  Bewitching!

Spiders . . . Frost cupcakes with your favorite colors such as orange, purple, white or yellow.  Pipe a black spider web on top of cupcake.  Top with a gummy spider.  Creepy!

| | | |
| --- | --- | --- |
| | One Stop Party Ideas Trickery | |

To keep cupcakes the same size, try this! 

Using a measuring utensil will ensure the same amount of batter in each cupcake liner.  When baked with the same amount of batter, the size of your cupcakes should be uniform.  We recommend using an ice cream scoop or a 1/2 cup measuring cup with a handle.

To minimize the mess, try this! 

Pour batter into a gallon sized zip lock bag, snip off the corner, and pipe batter into cupcake liners.  With less clean up, there will be more free time to bring new Halloween cupcake ideas to horrific life.

---
Other Party Animals Also Liked: