Ideas For Halloween Dinner
Ideas for Halloween dinner are anything but ordinary.  So scary.  So easy.  So many ways to say BOO.  Whether you're planning a Halloween inspired family meal or an elegant dinner with a hint of mystery, your dinner party can be as spooky or stylish as you like.  Where to start?  The first step is to determine the formality of your dinner party and the location.  Then, lean into Halloween as much as you think your guests would appreciate.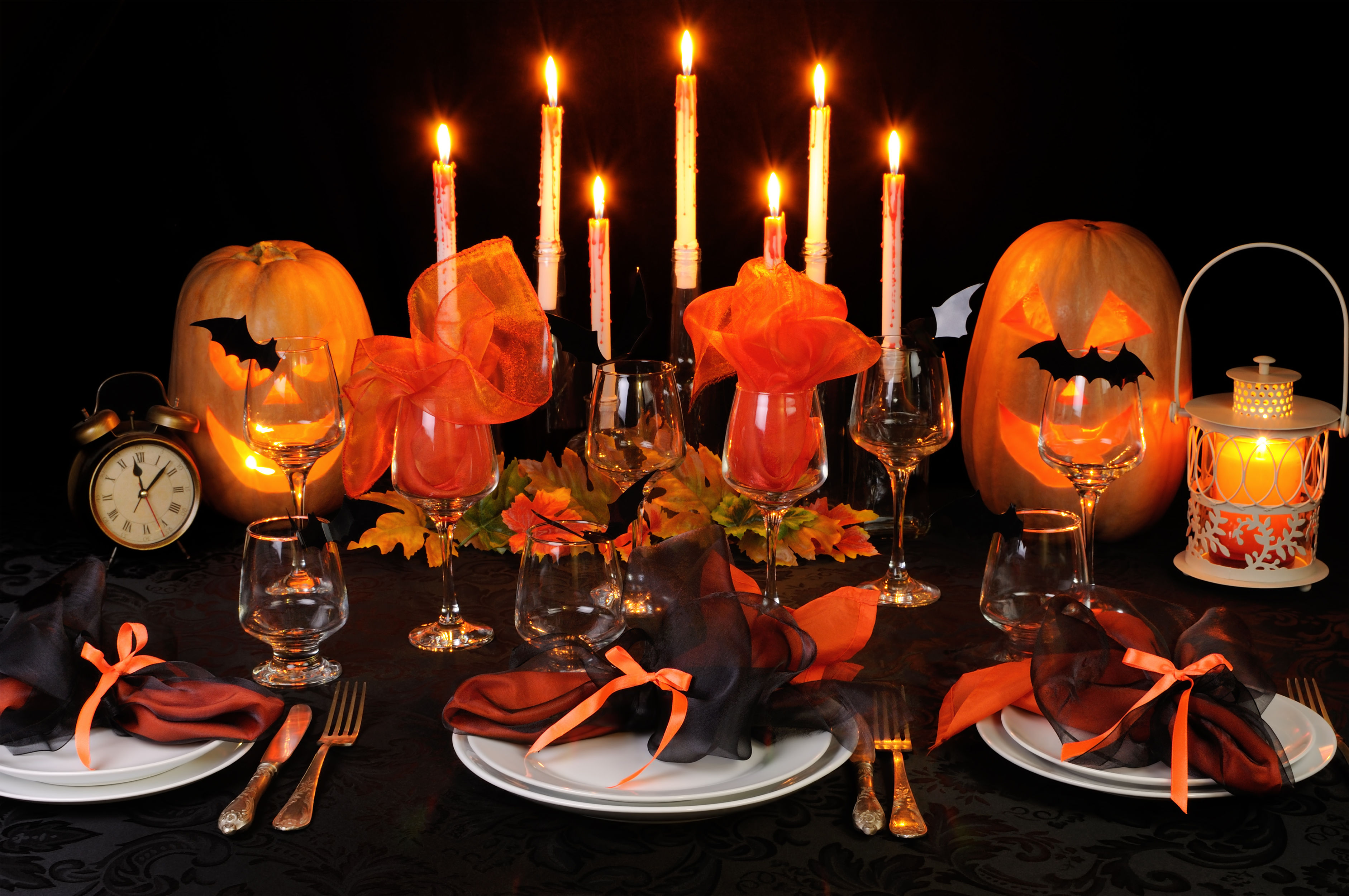 Ideas for Halloween Dinner
How to wow?  Get into character with store-bought decor that has been bewitched with some wicked good ideas of your own.  Think flickering candlelight, pumpkin centerpieces, and spooktacular tablescapes that are full of spooky details.  Regardless of what you think you are looking for, browse through these ideas for Halloween dinner that are inspired beyond belief.
---
Halloween Dinner Party Invite

There's nothing scary about these Halloween dinner party invitations.  From classic to modern styles, they are suitably spooky and guaranteed to cause a stir.  You choose the paper type, printing options, shape, and even the text is customizable.  Click on the pictures below for a closer look at all the ways you can make a Halloween dinner invite more personal.
Halloween dinner table setting.
Have no fear...this Halloween table set up won't cost you an arm and a leg.  Create a festive look with burlap wrapped flatware placed on dishes in seasonal colors.  Not a lot of fuss, but worth the effort.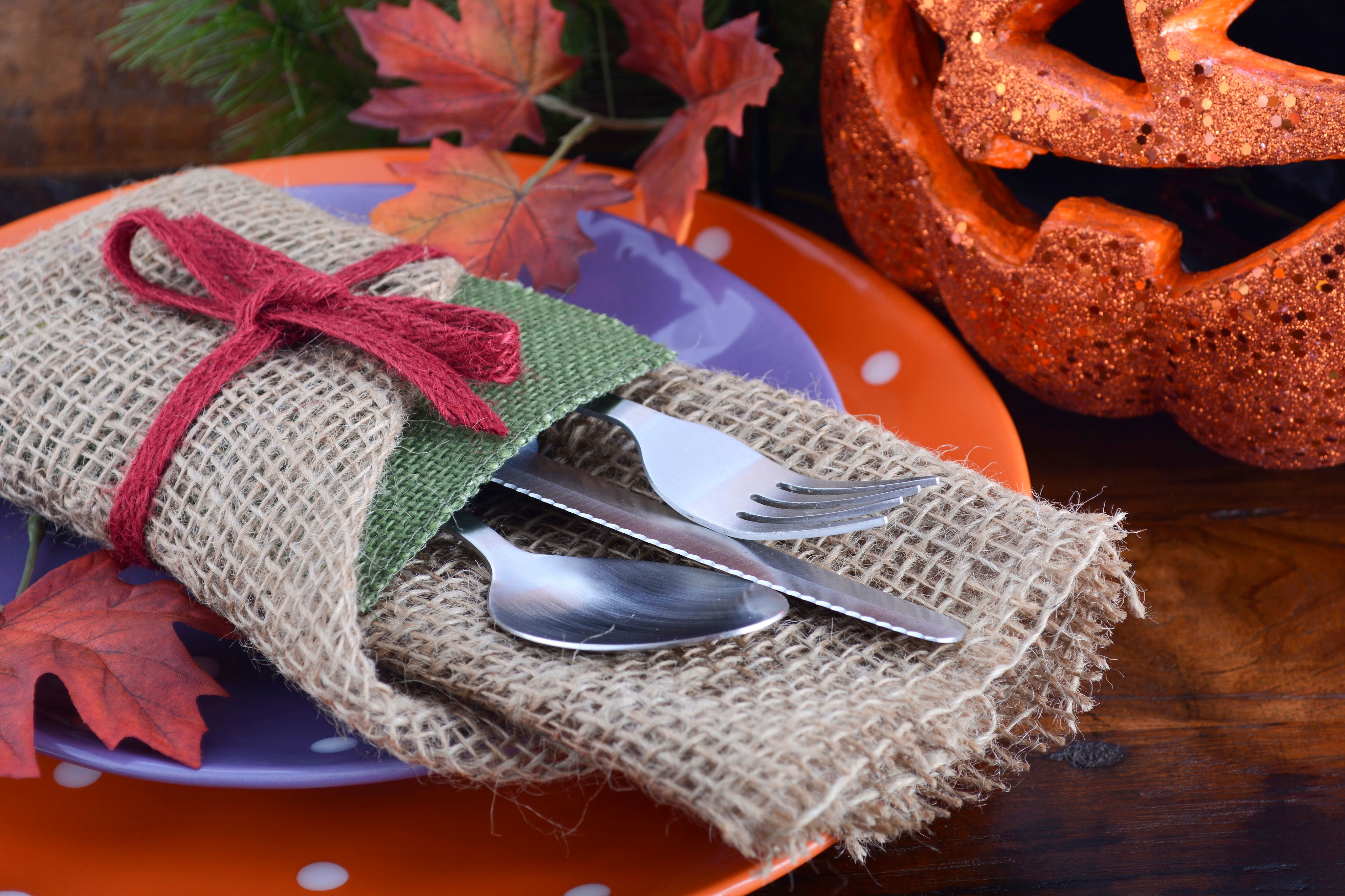 Halloween burlap table runner.
If you prefer a table runner to a tablecloth, we've got you covered.  These designs are boo-ti-fully styled to reinforce the theme and are an easy way to add another creative layer to the tablescape.  Perfect for casual dinners or an outdoor Halloween party.

Customizable table runner.
We have learned through the years that a unique party element can make all the difference in your party decor.  As you can see below, adding an initial is an easy way to make ordinary table runners uniquely yours.  Take a look at the pictures below for instant gratification.  
Sophisticated Halloween dinner party.
At a sit-down dinner, it's more important than ever to make the Halloween table display a work of art.  The beauty of this table lies in the crisp white background with subtle neutral accents.  It's as though every element was deliberate, right down to the pop of yellow in the centerpiece.  When the table looks beautiful, people tend to linger.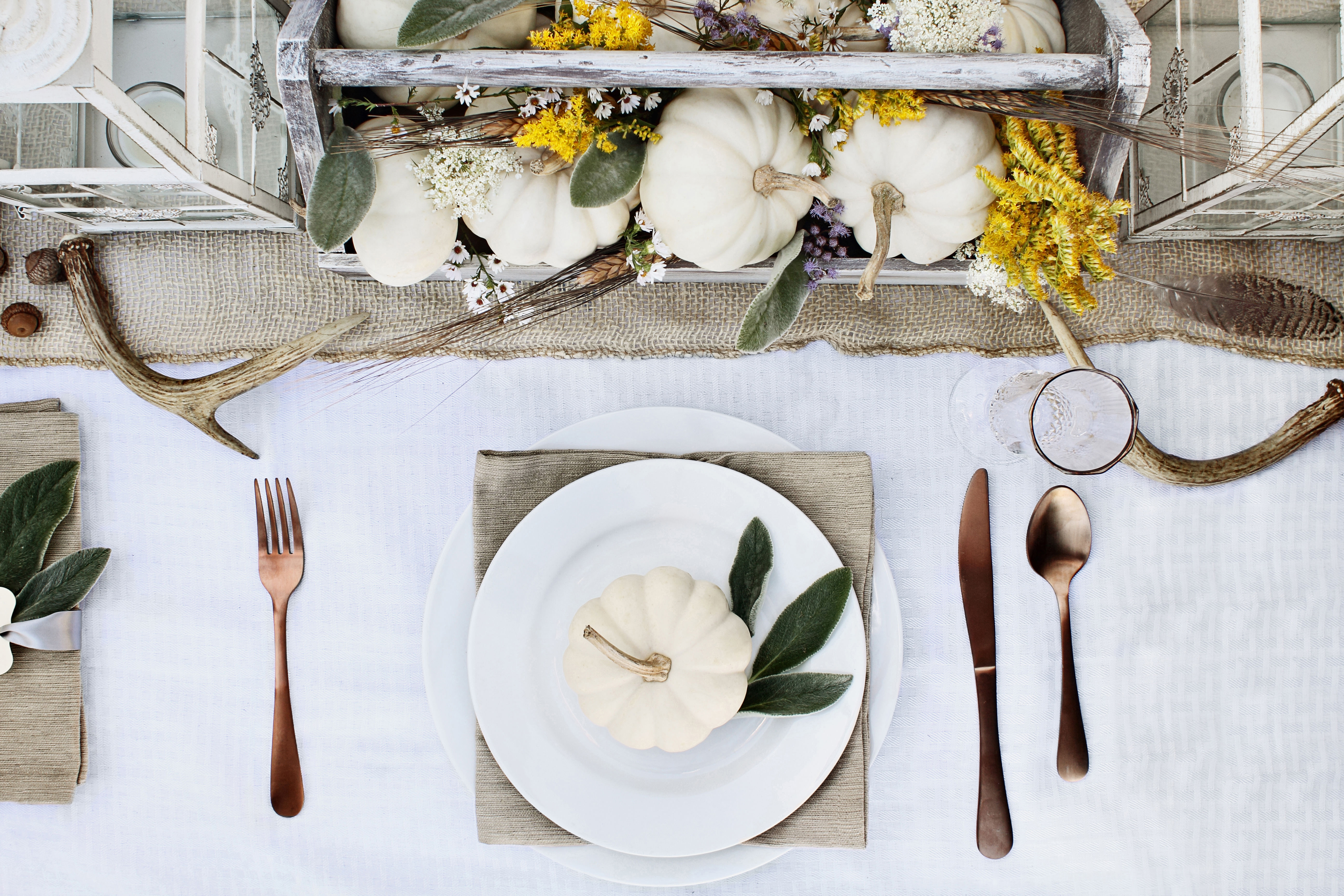 Halloween Menu Cards.
Eat, drink and be scary...elevate the dining experience with unique details that guests will notice.  Menu cards are the perfect opportunity to give guests a glimpse of what's for dinner.
Spooky Halloween dinner party.
There's so much spooking to be done!  Make a scene at the table that is haunted from start to finish.  From the perfectly carved pumpkin to the beverages (just the right color) in fancy glasses, every detail is a real treat...except for the plastic spiders and they have never hurt anybody.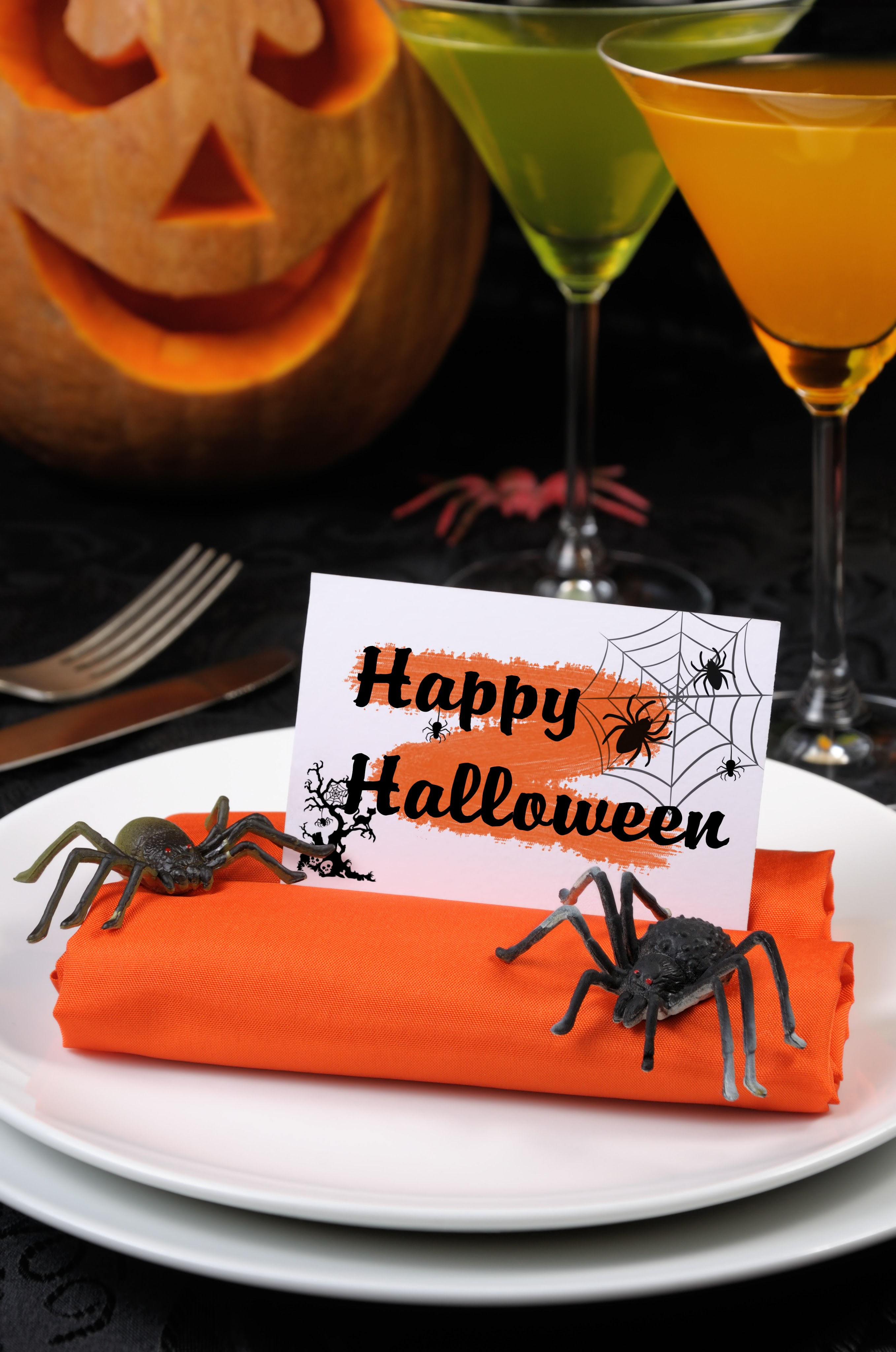 Halloween table runner and placemats.
Double, double, toil and trouble..but wait, it's really no trouble at all to decorate the dinner table.  Today's selection of placemats and table runners is hard to resist.  The only trouble here is deciding which one to choose.
Outdoor Halloween dinner party.
Scare up your own backyard Halloween dinner party with a walk through the pumpkin patch.  Pumpkins have long been the star of the season, so why not make them the star of your table.  No two pumpkins are alike, which only adds to the charm.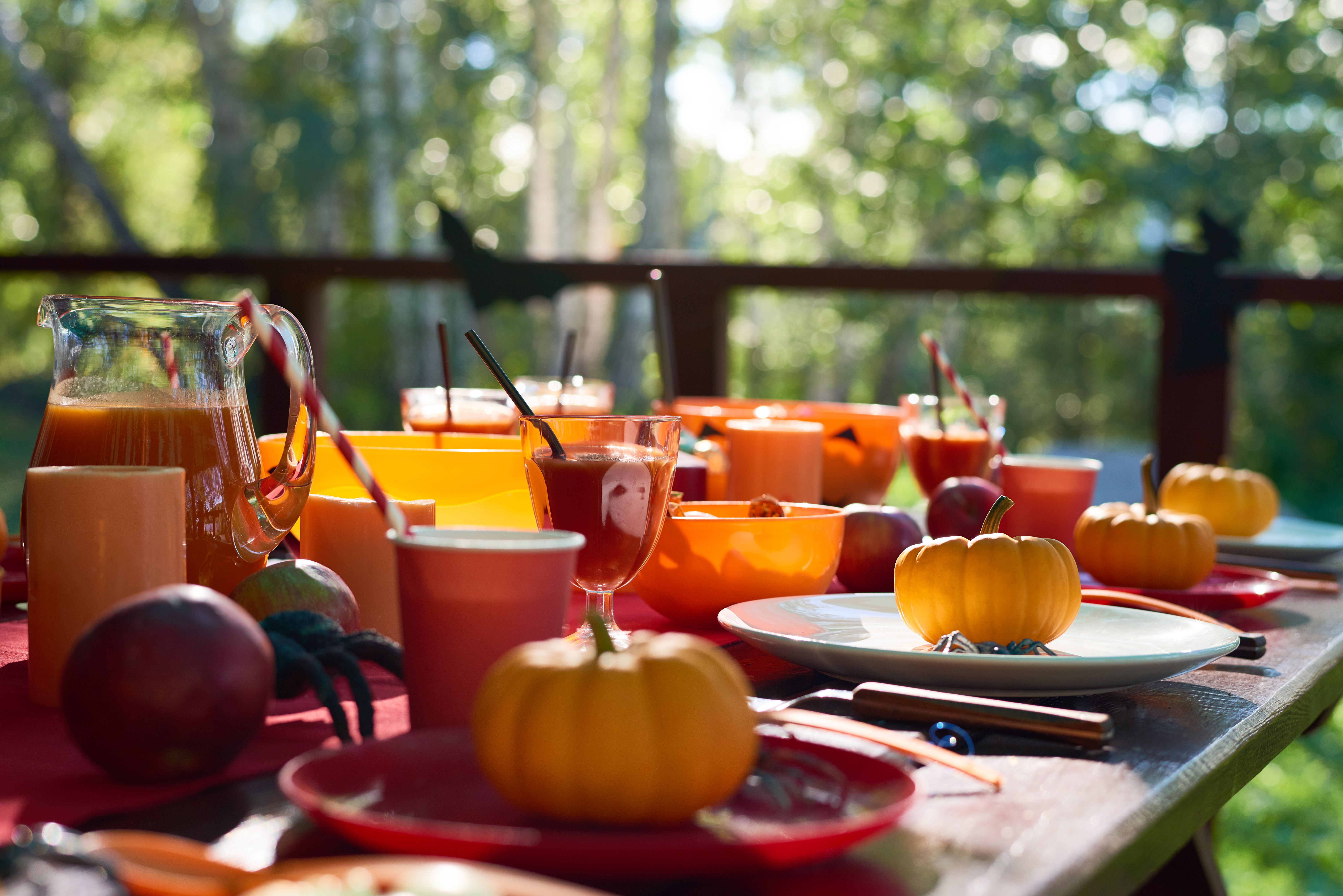 Halloween drinks cooler.
Dinner ideas for Halloween night.
Make the night extra special by planning a Halloween dinner.  Whether you're celebrating with friends or serving a family Halloween dinner, it's the perfect time to let your imagination run wild.  With special effects and wicked-good food, guests will be howling for more.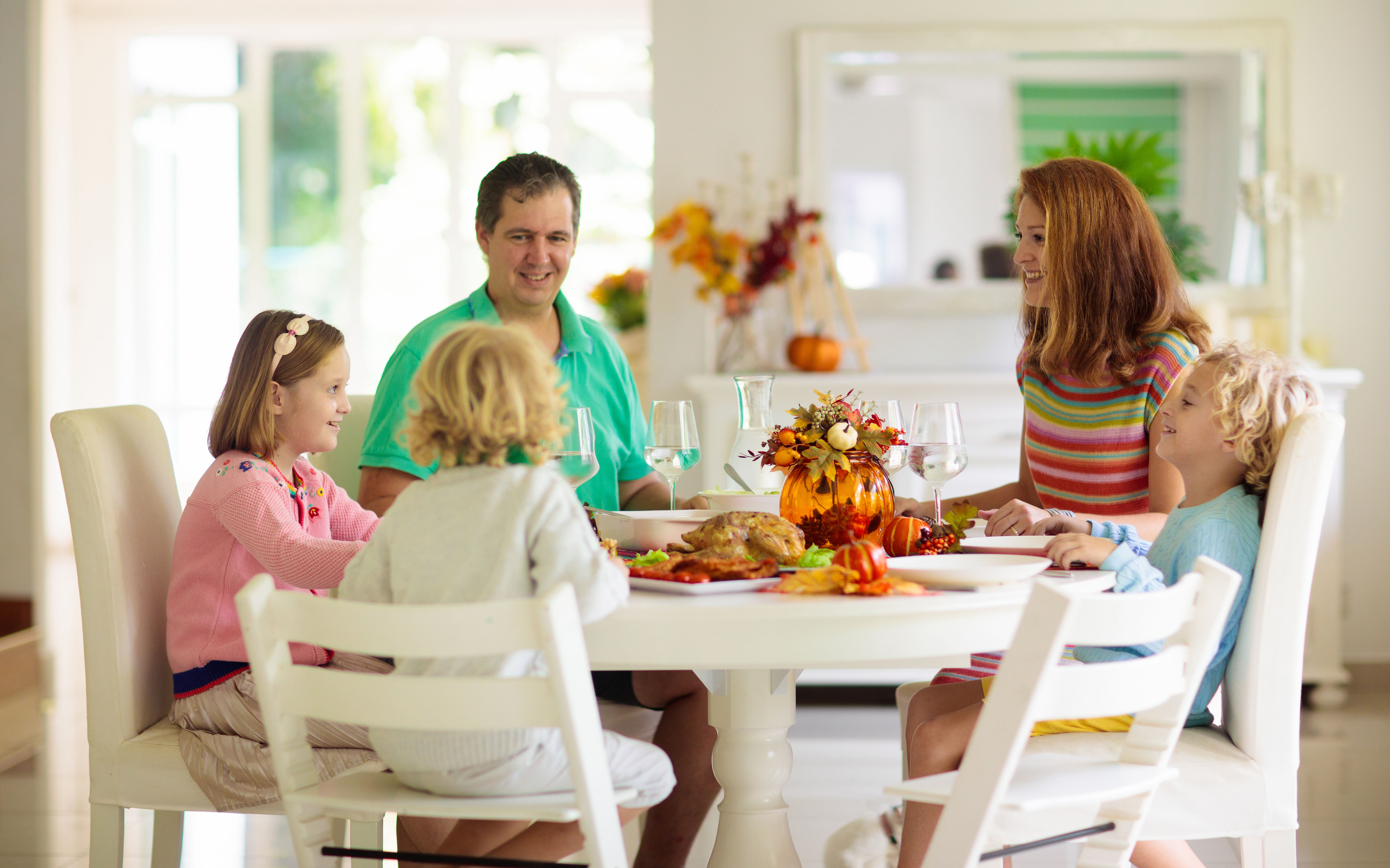 Halloween table lights.
Candelabras not only add to the ambience of the dinner table, but mere mortals find the flickering candlelight enchanting.  And the best part is that once you add them to your Halloween collection, they can be used over and over which is wicked cool.
Lanterns in disguise.
Halloween table arrangements.
Ideas for Halloween dinner that can be repurposed and enjoyed after the party is over makes sense.  Simply, place a vase of fresh flowers into a hollowed out pumpkin to create a lovely fall centerpiece.  Or consider filling the pumpkin cavity with pansies in full bloom and then plant them outdoors later.  No matter what flowers you pick or buy, these fall themed table arrangements are a stylish addition to an already pretty table.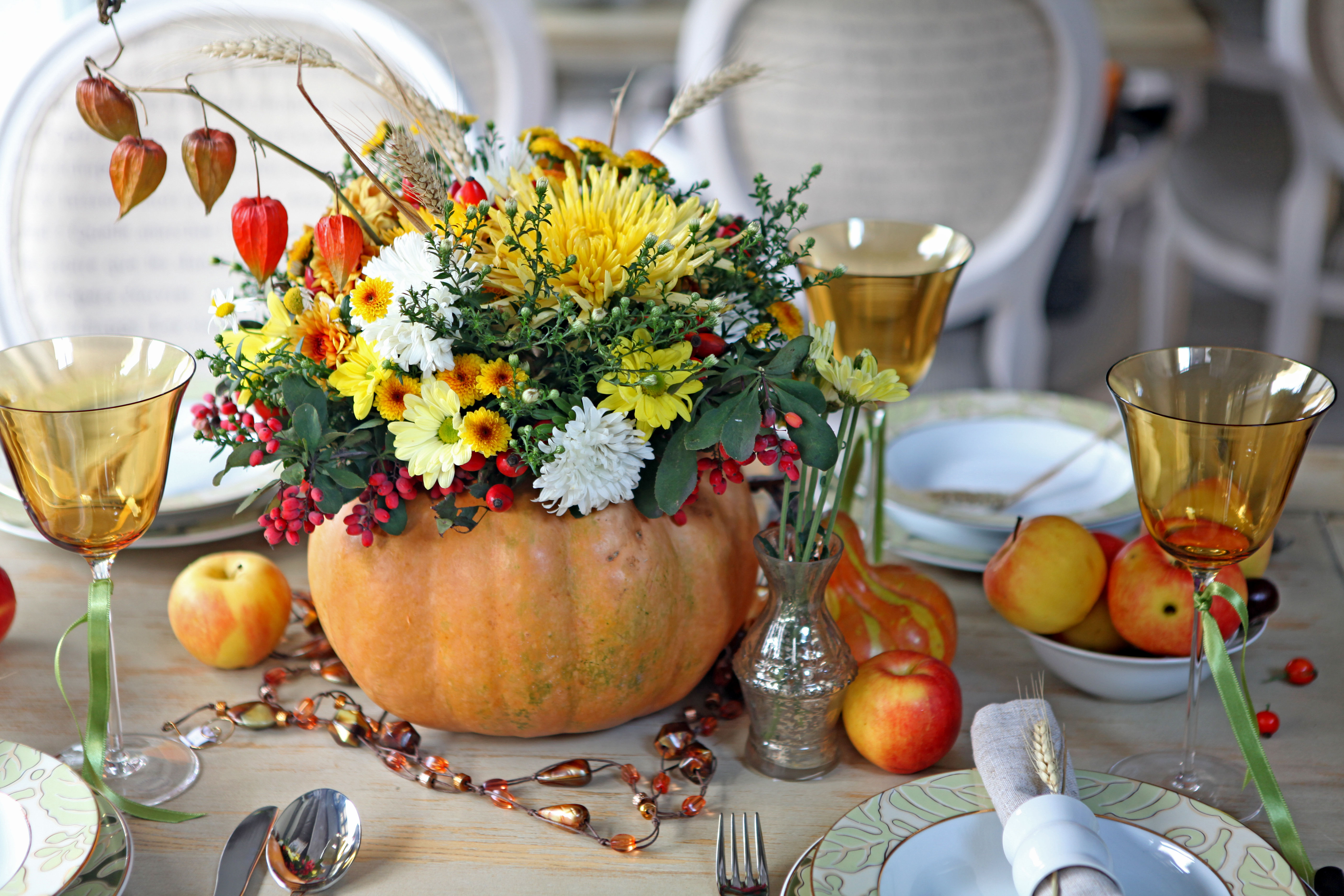 Come on over to the dark side...
DIY Halloween light decorating.

A scary Halloween light is an eerie way to invite guests in to have a seat.  If you already have a chandelier over the dinner table, simply add cobwebs and scatter spiders throughout.  And if you don't have a chandelier, look around at local garage sales for Halloween light fixtures that you can decorate and use year after year.
Halloween name place cards.
Identify the bodies...place cards at each table setting is a great way to show guests to their seats.  Go full Halloween and guests will notice the extra effort.
Halloween napkins and plates.
Now, that's the spirit.  This table setting takes full advantage of the traditional colors of Halloween.  And with all that orange and white, it's hard to miss the black cat with a place card attached that clearly indicates witch place is yours.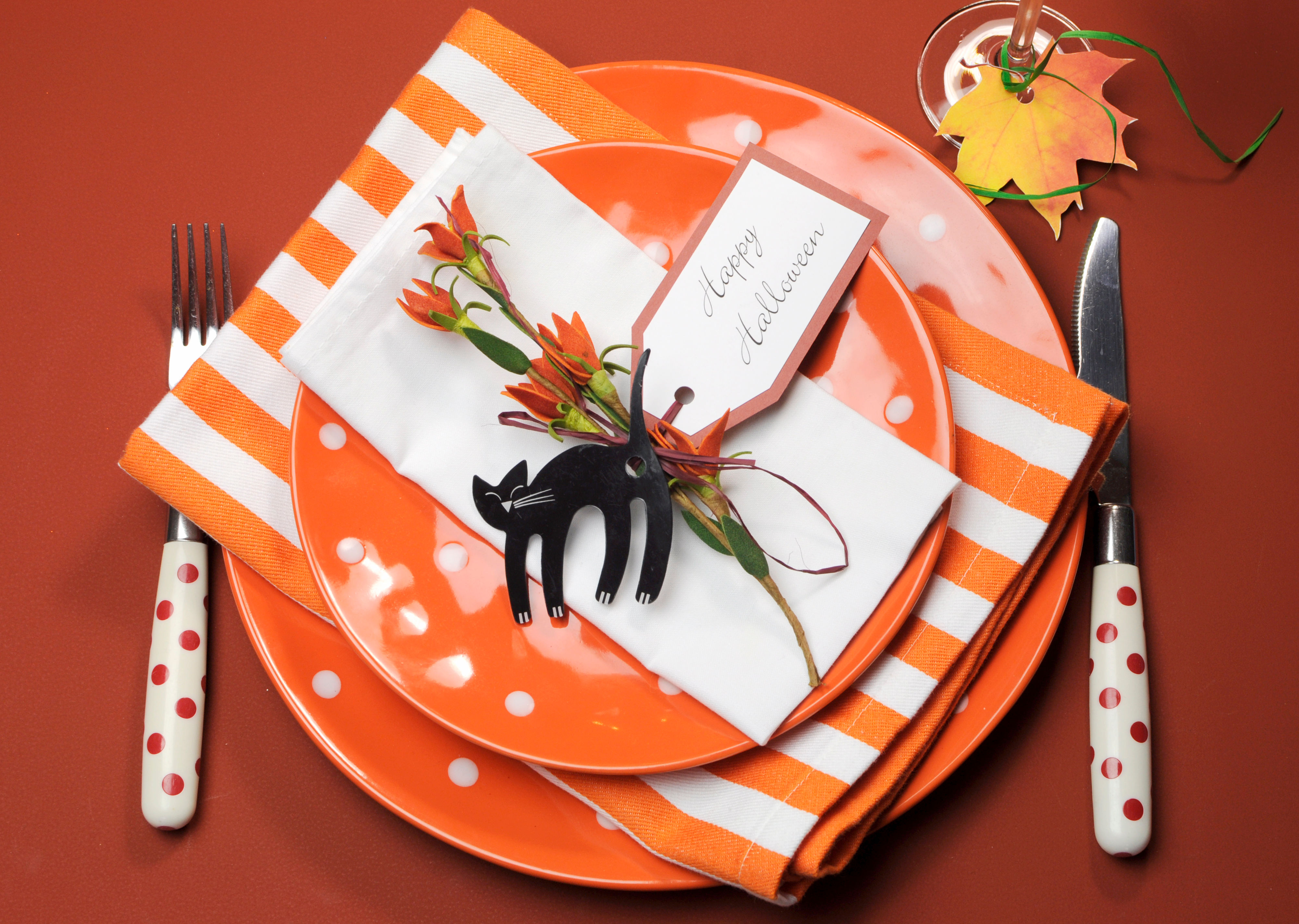 Halloween inspired charger plates.
Ideas for Halloween dinner tablecloths.
Funny Halloween napkins.
If you prefer cloth napkins, you don't have to sacrifice tricks and treats.
Take a look below and see for yourself...
Freaky flatware.
Halloween napkin ring ideas.
Did I see what I thought I saw?  Is that a spider, skeleton's hand or Dracula's fangs clenching a brightly colored napkin?  Well, I believe it is.  Your ideas for Halloween dinner should first and foremost be fun and memorable...these napkin rings are both.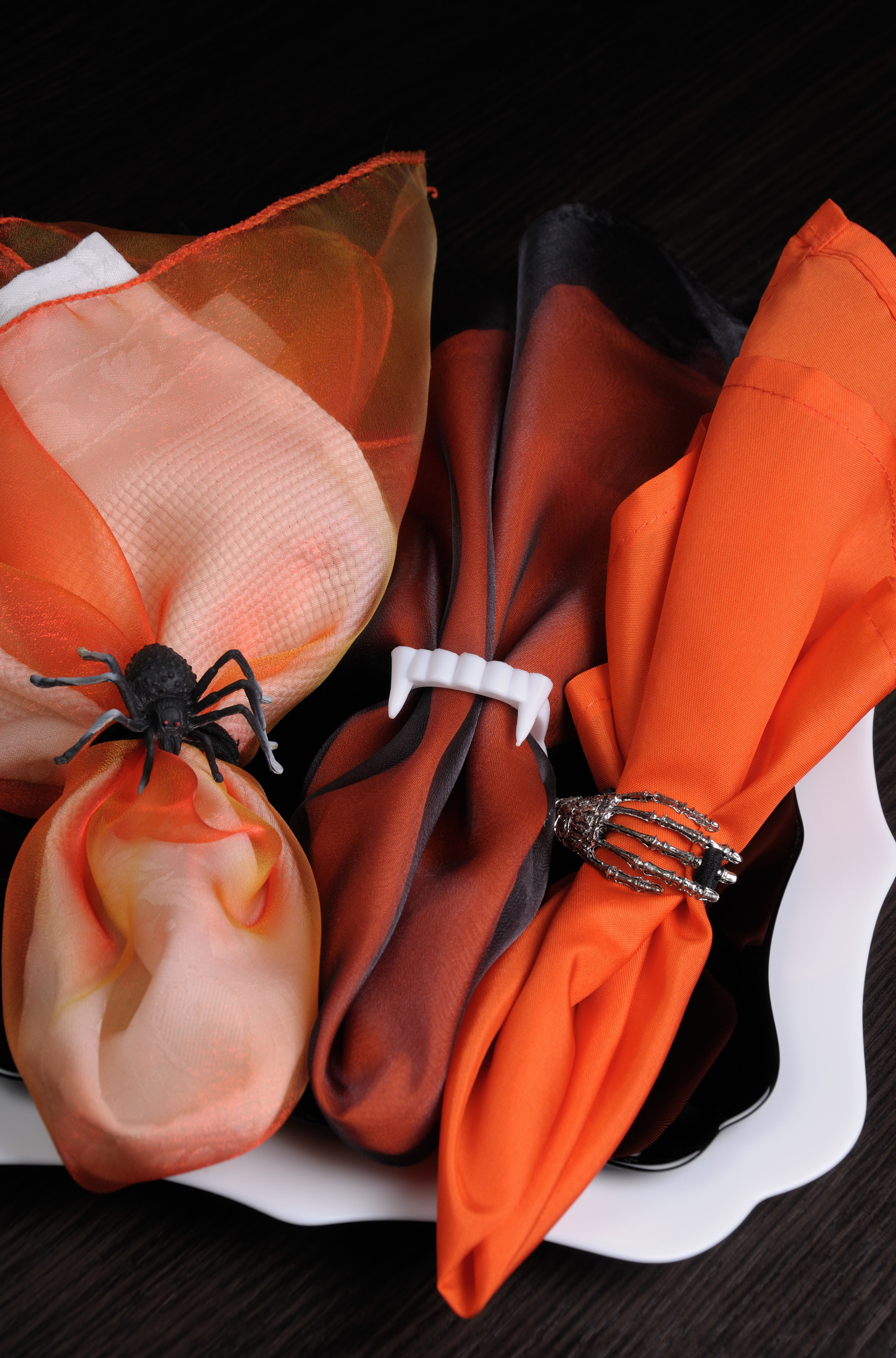 Halloween party drinks ideas.
Extend your ideas for Halloween dinner to the beverages.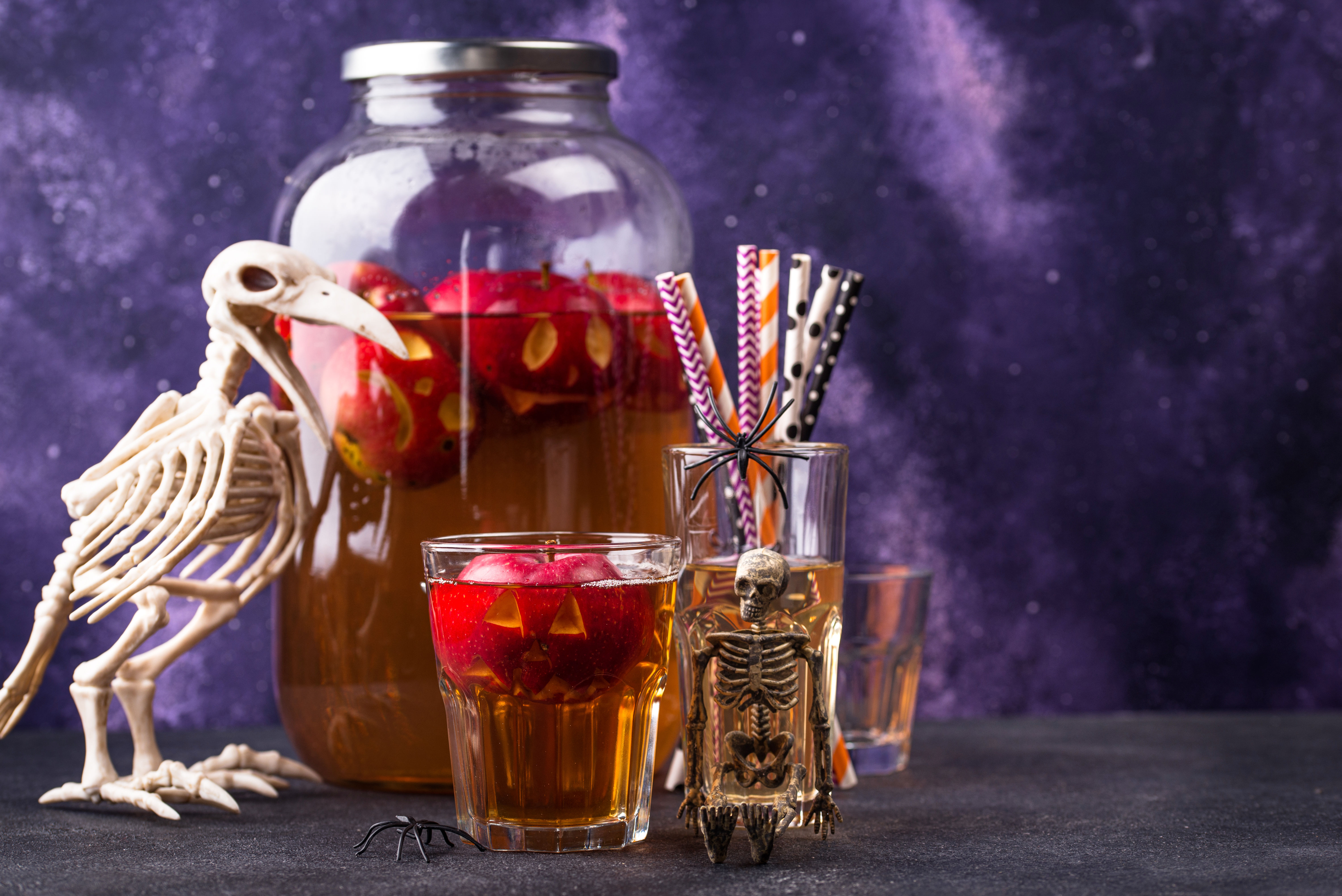 Whatever you have brewed up to drink,
consider these tricked out beverage dispensers.

How to make spooky Halloween drinks?
We've got answers.
Halloween dinner dishes.
Ideas for Halloween dinner party platters.
---
Other Party Animals Also Liked: